Additional reporting by Jewel Stolarchuk/
On September 21, Hollywood star Michelle Yeoh posted a selfie on Instagram with the book, Billion Dollar Whale: The Man Who Fooled Wall Street, Hollywood, And The World, based on the machinations of Jho Low, the mastermind behind the 1MDB scandal, who is now a wanted man. 
Born in Malaysia, Yeoh is known internationally for starring in popular 1990s Hong Kong action films, blockbuster Chinese-language martial arts film Crouching Tiger, Hidden Dragon and for playing a Bond girl in the 1997 James Bond film Tomorrow Never Dies and Nobel Peace Prize winner Aung San Suu Kyi in Luc Besson's 2011 film The Lady.
Yeoh was last seen in the Hollywood adaptation of Crazy Rich Asians that was set in Singapore.
Calling Billion Dollar Whale a "fascinating book" earlier last month, Yeoh wrote on social media: "I'm loving this brilliantly reported new book by journalists Bradley Hope and Tom Wright."
One week later Ms. Yeoh finalized an agreement with SK Global's Ivanhoe Pictures, which produced Crazy Rich Asians, this time as a producer. Their first project together is reportedly a movie based on the Billion Dollar Whale book. In a statement, John Penotti, the president of SK Global, said,
"Tom and Bradley have crafted a thoroughly compelling telling of this unbelievable story. While certainly a daring work of investigative journalism, the narrative thread and eclectic characters that they so diligently chronicle make the book read like a thrilling and engrossing novel.
"We are very proud to be associated with this project and anticipate moving forward very quickly to production."
Billion Dollar Whale was written by journalists from the Wall Street Journal Tom Wright and Bradley Hope. It delves into the glamorous, high-profile life of Jho Low, as well as the Hollywood celebrities and other famous personalities that he met, did business and partied with around the world, including such stars as supermodel Miranda Kerr and Hollywood star Leonardo DiCaprio.
Casting for the movie has yet to be announced.
The book has already sold out in Malaysian bookstores. Tom Wright, who was in Malaysia recently to promote the book, will be returning there this month.
The sale of Billion Dollar Whale, while allowed in Singapore, has been banned in the United Kingdom, where Low's lawyers have threatened booksellers with lawsuits should they proceed with selling it.
Low has called the book, "one of three recently and hastily published books, with the authors attempting to write 'instant history,' without the benefit of evidence and before the issues have even begun to be resolved."
A statement on his website says that the book contained "allegations disguised as fact and gossip passed off as legitimate reporting."
It also said, "Mr. Low seems to disappear from the narrative when any of the alleged fraud occurs, only to then be accused – without any evidence – of having been responsible for it."
While many of Ms. Yeoh's fans were all praises for her post, some called her out for being an alleged supporter of Malaysia's former Prime Minister Najib Razak, who is now facing corruption charges connected to the 1MDB scandal: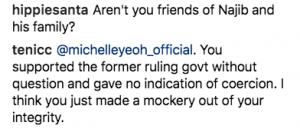 In 2013, the Ipoh-born Yeoh openly endorsed Najib at a gathering organised by the Federation of Chinese Descendents of Selangor on Saturday. She said:
"We have a leader here who has done so many good things and will do more. I hope from the bottom of my heart that he will remain as the Prime Minister and I ask all of you to give him a strong mandate."
Yeoh was slammed for her comments then, with many asking her if she had "any idea how her fellow countrymen live" before urging her to reconsider her decision and "not become a traitor".
Responding to the intense backlash that followed, Yeoh reiterated her support for Najib as she defended: "This is a democratic country and we are free to voice our opinion. I believe all of us want to do good for our country."
Follow us on Social Media
Send in your scoops to news@theindependent.sg