In a shocking breach of online privacy, a mean creature leak emerged in Singapore, causing uproar among netizens. An invite-only SG Nasi Lemak Telegram Group has been outed for disseminating explicit content, including pornographic photos of local women and girls, many of whom are suspected minors.
The Singapore Telegram Group sharing nonconsensual photos reached an alarming size of over 40,000 members, triggering severe backlash from local celebrities and the general public, prompting a heated discussion on the online privacy breach on Singapore social media platforms.
It was also reported to have shared photos of young women in compromising positions without their permission.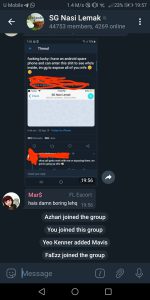 YouTuber Dee Kosh and singer Sezairi Sezali took to their Twitter accounts to criticize the invite-only Telegram group called, 'SG Nasi Lemak'.
Is there something inherently wrong with the way we're raising our boys? ? https://t.co/5tjnaZtfaB

— SEZAIRI (@sezairi) September 30, 2019
Sg Nasi Lemak. Lol. Could you pick a better name? Sick. Porn not enough meh? What else do you want? Insatiable eh men. Seriously. Offense fully intended. Some men are pigs.

— Dee Kosh (@TheDeeKosh) September 30, 2019
This SG Nasi Lemak Telegram Group controversy came into public attention when YouTuber Dee Kosh and singer Sezairi Sezali voiced their stern criticism on Twitter. Sezairi expressed concern about societal values and the upbringing of boys, connecting it with the ongoing meancreature leak. Dee Kosh, on the other hand, sarcastically criticized the choice of the group's name while condemning the actions of its members.
Many took to social media to criticize the group as well, sharing screenshots of messages and members in the group.
While most netizens condemned the SG Nasi Lemak Telegram Group for its flagrant disregard for consent and privacy, some defended it, stating that women should avoid posting explicit photos if they fear being part of such a meancreature leak. However, this argument has largely been dismissed as victim-blaming and evasive of the central issue of consent.
Twitter user @Sajidvhhh posted a Twitter thread on Monday sharing photos and videos, including nudes, taken from the group. @Sajidvhhh, who also posted video clips purporting to show members of the group, covered the faces of the women. Many have commented on social media speculating that a lot of the women looked to be minors.
One user even defended the group chat, adding that if girls were afraid of their nude photos being leaked, they should "Not post any sexy photos flauting (sic) your assets".
From the group… Opinions??? Smlj?? ?? pic.twitter.com/ob2zPMxFll

— εчиα ♥ (@eynaariffinn) September 29, 2019
Some who posted on Twitter also said that the group was not accessible to iPhone users, but could be accessed by Android users.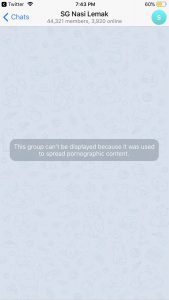 This SG Nasi Lemak Telegram Group controversy raises uncomfortable but necessary questions about the extent of privacy on social media and the disturbing ways in which it can be breached
/TISG