Netizen Jake K. Thein took to Facebook to post side by side screenshots of bookings with Grab and Ryde, with Grab's fees more than three times more expensive than that of Ryde. While the route was slightly different, it certainly did not seem to merit that much of a difference.
While Mr. Thein did not intend to demean Grab, being a loyal and longtime Grab user, his post obviously struck a chord among fellow netizens, who shared it more than 1200 times, and told their own stories about Grab's exorbitant rates.
Mr. Thein wrote, "Lol grab. After kicking out Uber this how you monopolize?? Disgusting.
Before shit gets out of hand, let me just say.. I have nth against grab. Have been using their service for a long time ( platinum member.. nth to be proud of.. just damn lazy to take the mrt

????

????

) I was just upset about their fare difference since they took the top spot, I remember when grab fare was reasonable.even during peak hours, attractive rewards and so on. Ya'll get the point.
No hate, just a loyal grab consumer. Expressing his dissatisfaction.
P.s. RYDE hows the increase in sales? ????"
https://www.facebook.com/JakeKThein/posts/10156088485729858
Just last week, Grab and Uber were fined more than S$13 million by the Competition and Consumer Commission of Singapore (CCCS) for their anti-competitive merger, which took place earlier this year.
And now, it seems that Grab is not hesitant to command very high prices for its services. According to Mr. Thein's post, the Grab rode would have cost $41, while the RydeX booking was only $13.
Many netizens commented on Mr. Thein's post, telling their own stories of how Grab prices have increased greatly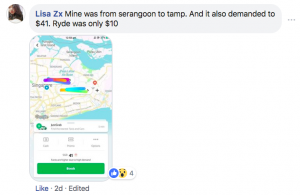 Follow us on Social Media
Send in your scoops to news@theindependent.sg