Many Malaysians have taken to social media to call out their government for giving out surgical masks instead of N95 ones in order to combat the haze.
Yesterday (September 18), the Malaysian government prepared 80,000 masks to give out to residents living near the town of Sri Aman to help them cope with the haze, reported Malaysian National News Agency Bernama.
A tweet by Bernama, loosely translated, read, "80,000 nose and mouth covering masks will be distributed to affected residents of Sri Aman city #jerebu – Sri Aman Resident, Indah Bangai".
Along with the tweet, government personnel were captured on camera wearing the same sort of masks as well.
Sri Aman in Sarawak had the Air Pollutant Index (API) reading in the area even crossing the 300 mark on Tuesday, September 17.
Many netizens were quick to point out the slip-up and note that surgical masks were used against blood and bodily fluids, while N95 masks were needed to filter fine dust and smoke particles.
They shared infographics from the Public Health Malaysia that read, "If you live in an area that has a bad level of air quality, make sure you're out of the house using the right protection.
Make sure you use at least face mask N95. Face Mask thin like a surgical mask (sic) can't filter dust size pm2. 5."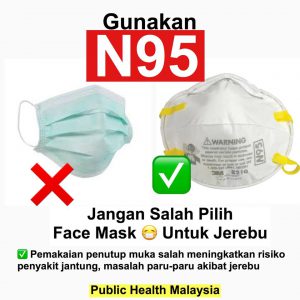 Others shared infographics explaining the differences in the types of masks.
— Duke of Bandar Dato' Onn (@yuszuri) September 18, 2019
/TISG