Dr Tan Cheng Bock's announcement today that he is returning to politics and that he is registering a new opposition party has drawn widespread praise from hundreds of Singaporeans, who are thanking him for his "selfless" contribution to Singapore.
Earlier today, Dr Tan said that he and 11 other "like-minded Singaporeans" filed an application to the Registry of Societies to register a new political party, called the Progress Singapore Party. Interestingly, the group who filed the application to start the party include other ex-PAP cadres like Dr Tan.
Dr Tan revealed that he decided to form his own political party due to a sense of duty he felt towards Singapore, after hearing their concerns and fears during his interactions with ordinary Singaporeans on the ground.
Explaining that he chose to form his own party instead of joining an established opposition banner, leading an opposition coalition, or running as an independent since he felt that this was the "right" route for him, Dr Tan said that he looks forward to "working with others in the opposition who are passionate about putting country first – before either party or self."
"Over the years, a group of us have been walking the ground, meeting many Singaporeans from all walks of life. In my conversations with them, I listened to their concerns, heard their fears and felt their pain. I felt a sense of duty to come forward and represent them in Parliament. So I decided to form a political party to add another voice in Parliament.

"The decision to go on our own was not an easy one. I, together with my team, studied the many options offered, like joining an existing opposition party, taking over an existing opposition party, running as an independent and so on. I want to thank all those who made such generous offers. I considered them all seriously and it was a difficult decision, but I feel it is the right one.

"Though we are setting up a new party, we still look forward to working with others in the opposition who are passionate about putting country first – before either party or self."
Dr Tan further said: "At 78 years, I have a short window that I intend to use mentoring and developing future Parliamentarians who will work for the good of our nation."
Asserting that his team wants to "build a compassionate and truly democratic Singapore where good values and people matter" and defend the freedom of choice and free speech without fear, Dr Tan appealed for the people's support and urged the people to give his team an opportunity to "be an alternative voice in parliament."
Dr Tan indicated that further details about his party will be revealed at a press conference once they receive approval from the Registry of Societies.
Hundreds of Singaporeans responding to Dr Tan's announcement have thanked him for his "selfless" act of returning to politics to champion ordinary Singaporeans. Urging him to "make Singapore great again," several netizens exclaimed that this is the best news they have heard about local politics in some time: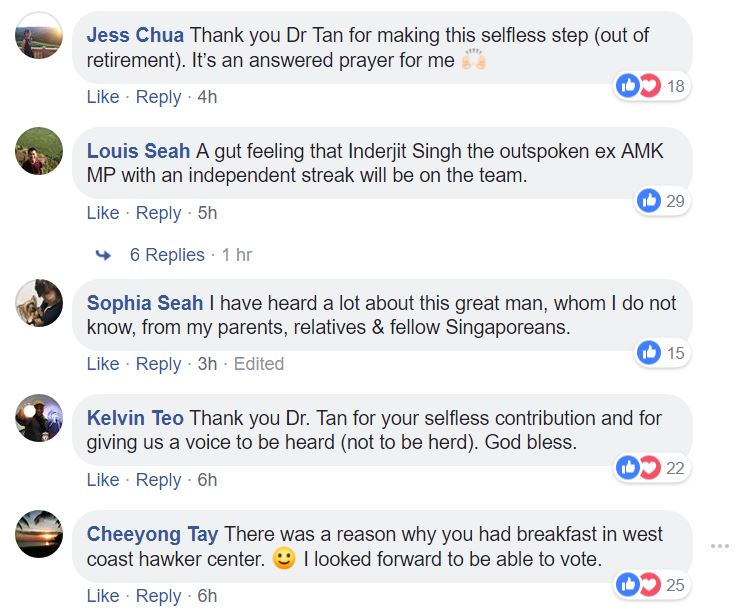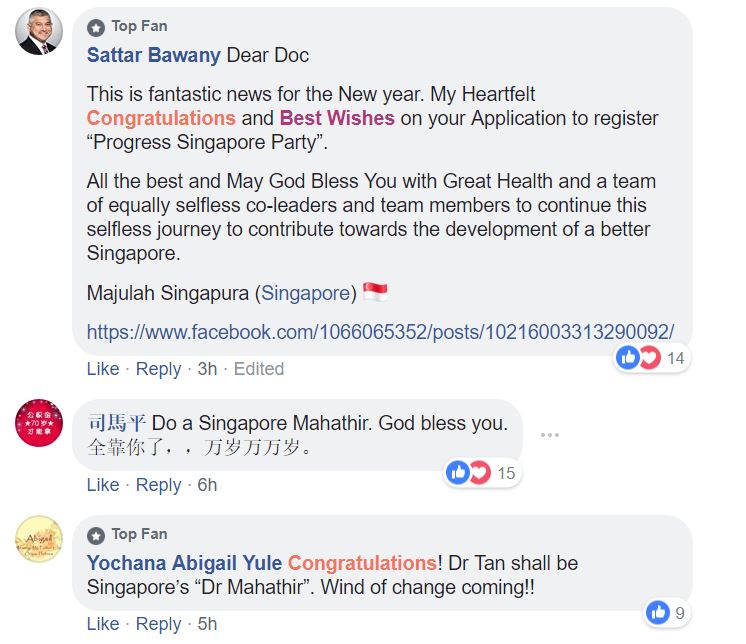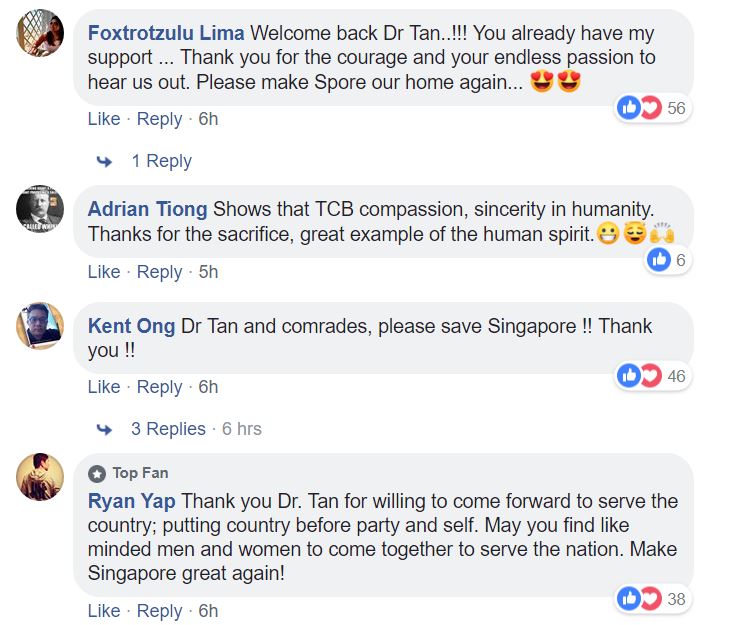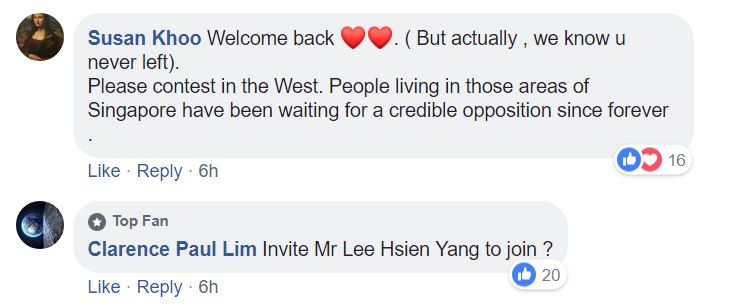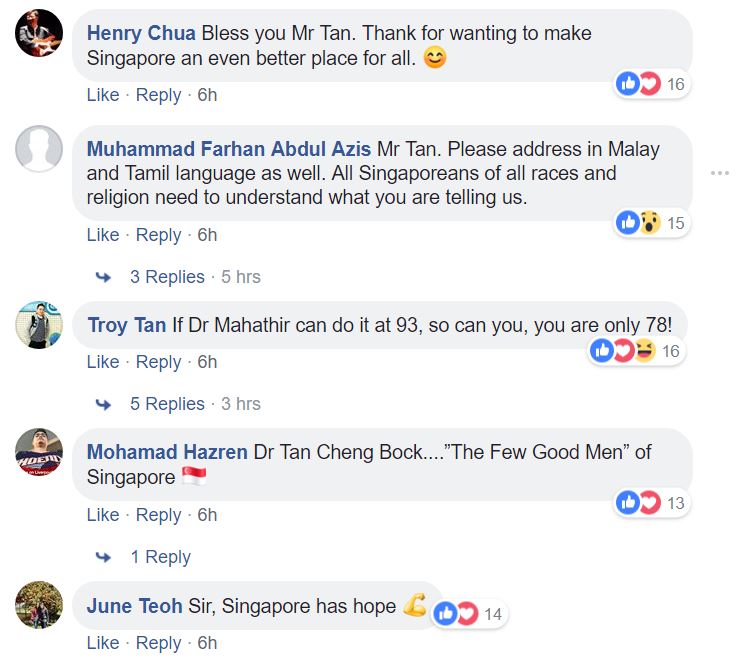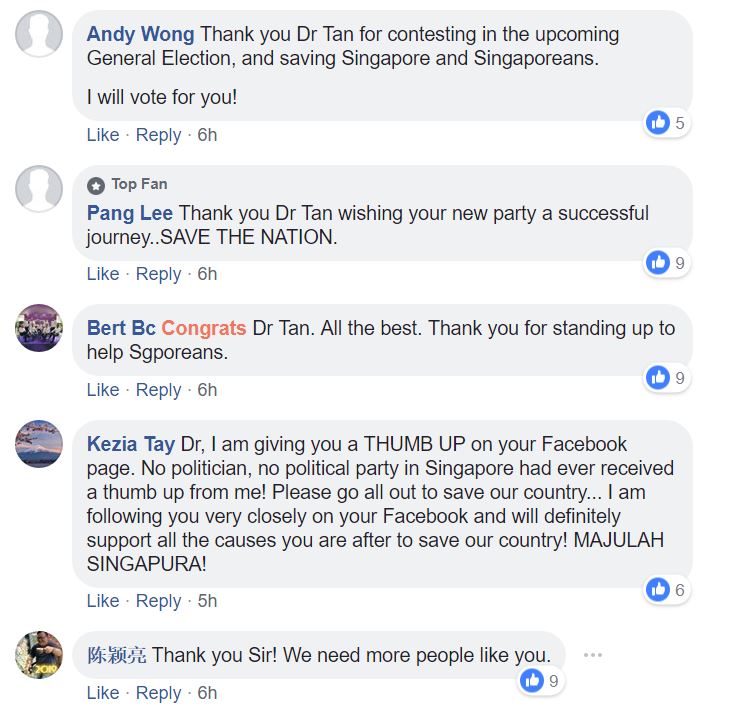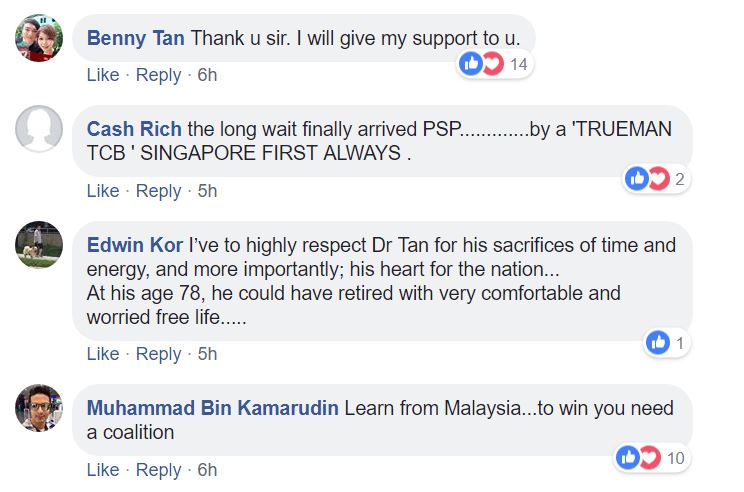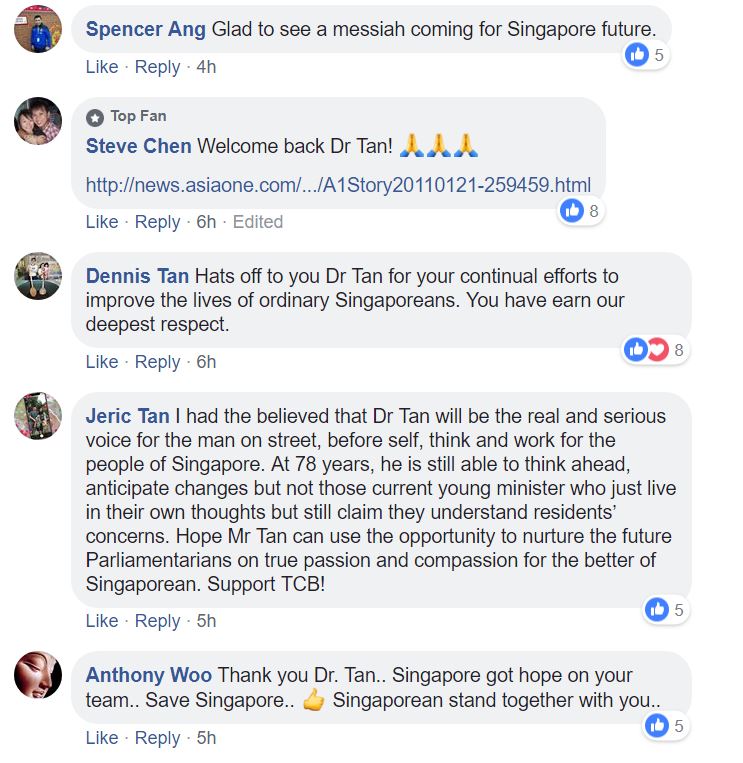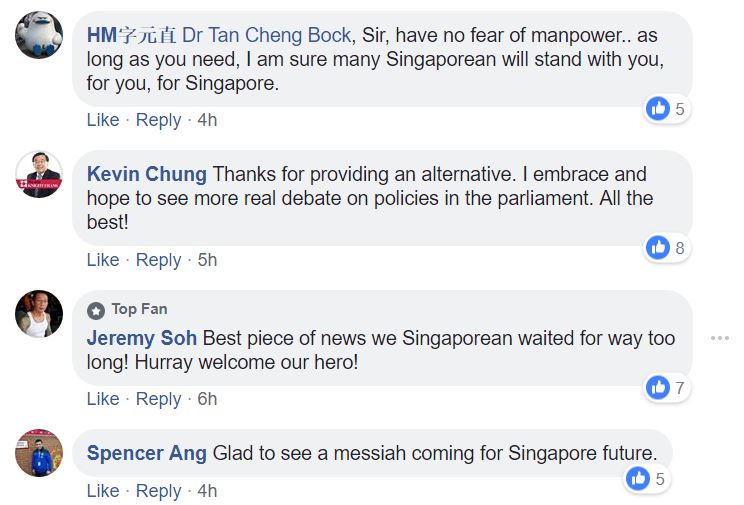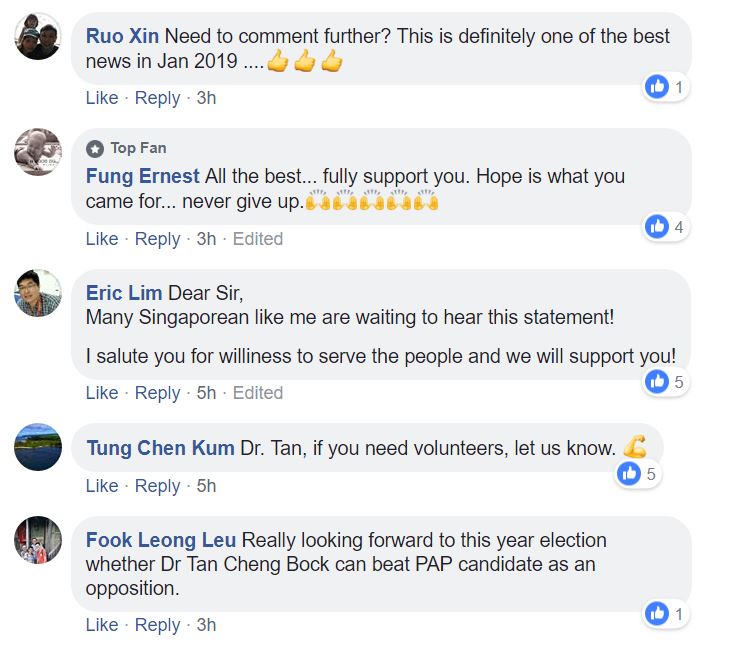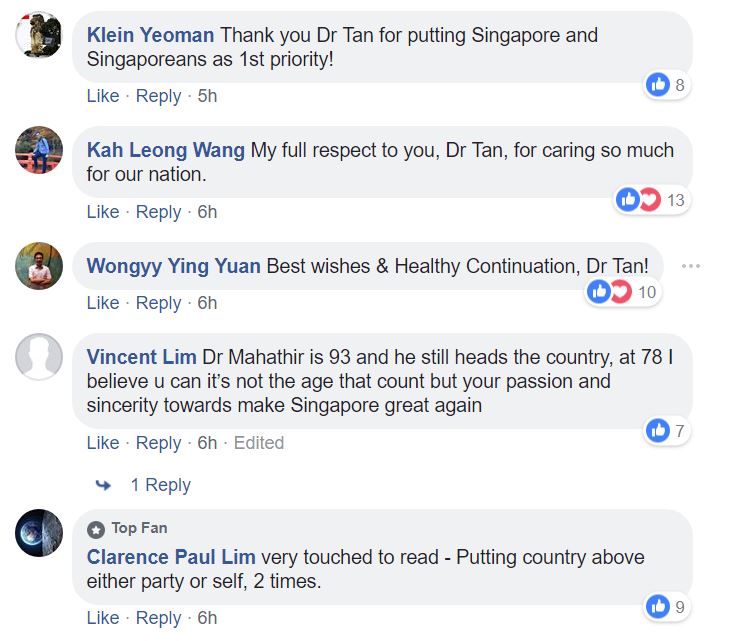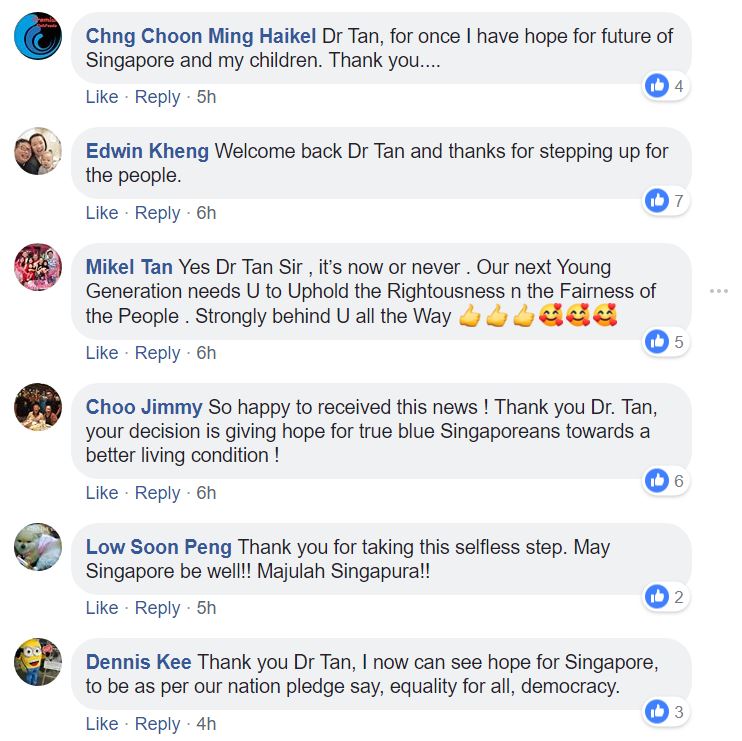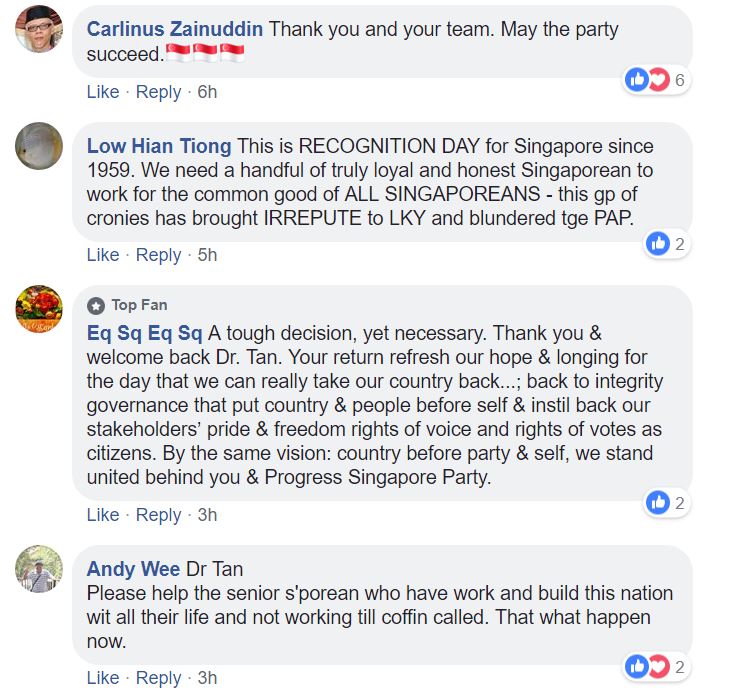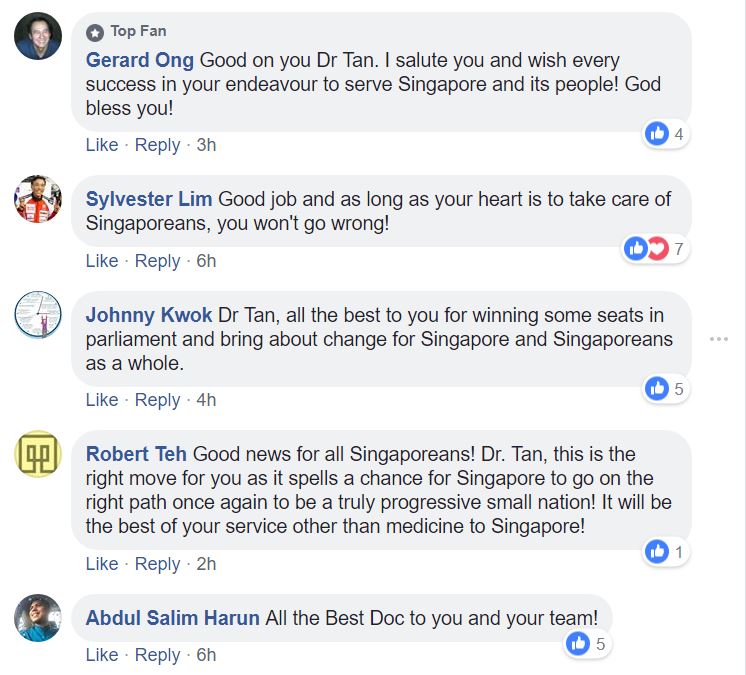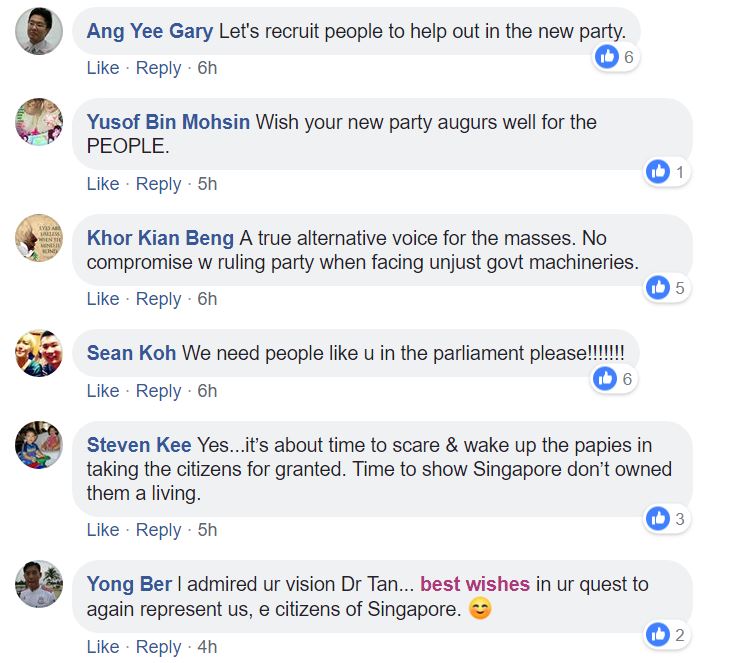 This latest development marks Dr Tan's return to politics after a long absence. Dr Tan was formerly a ruling party politician and a PAP Member of Parliament from 1980 to 2006. He was the first non-Cabinet minister elected into the PAP Central Executive Committee (1987–96).
In 2011, Dr Tan stood in that year's presidential election and lost by 0.35 per cent to the establishment favourite and ex-PAP minister Tony Tan. Dr Tan tried to contest the next presidential election but was barred from doing so when the Government reserved the election to Malay-Muslim candidates months after he announced his intention to run again.
https://www.facebook.com/TanChengBock/photos/a.117989784942232/2390342094373645/?type=3&__xts__%5B0%5D=68.ARD-aCp_3LaxzdNLz7MLxv7DqqZfzefi0ki9ijMstrMZ-CHo-lRPDcdzk-JeCvP2_tRqJAuOPDjMEcBfv3bX7aUv3N_ZJQoRCAm_vxS0YNspGP7v6sfempmiBRMxKHOGqTLCbO13yXSTIfSfz8qzEOkYvAFknO4p2axemGBil1QvPnWF1-s6raVUVxmjQNR9i189ZF4dCkTYlkt7qX1PqIpujp_nCVeILgoyKn4NJA0mXVXTUyHqMubBTKB58FIDMmtTeic3EB_6nUiRyapoNzcnH9pb12qvXbIu0tr1GvdJ8LnFLrtKc-m07pec4eoPBaWSjWPOAn3RxSu7awwmenX2Sg&__tn__=-RFollow us on Social Media
Send in your scoops to news@theindependent.sg