The gloves come off and the jokes are in as Singapore's Land Transport Authority (LTA) and Swedish ready-to-assemble furniture company IKEA square off in a hilarious ad war over how much their benches cost.
Benches, specifically LTA-issued benches, have taken centre stage after a Singaporean man was recently convicted of mischief by stealing an entire metal bus stop bench to use in his home. When Singaporeans found the LTA-issued ones, which cost anywhere from $500 to $1,500, to be outrageously expensive, IKEA took the opportunity to boast about their own flat-packed bench, which retails for only $159. The LTA has responded, and the resulting ad is a tongue-in-cheek dig at IKEA.
Earlier this month, 22-year-old Tan Ke Wei was convicted of one count of mischief after he stole a metal bus stop bench to study and measure it for his house's interior design, which was meant to look like a bus stop. A witness saw him unscrewing the bolts by hand and walking away with the bench, which he had covered in garbage bags.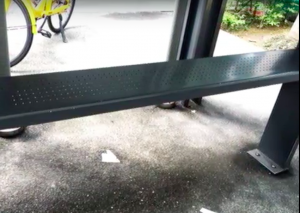 Singaporeans could not hold back their comments after the LTA estimated the cost of the bench to be a whopping $1,500.



IKEA cashed in on the hullabaloo, posting this cheeky ad on Facebook on October 11 for the "Industriell" flat-packed bench, which sells for only $159, with this cheeky caption –
"Bring home a way more affordable bench from our store (not the bus stop)."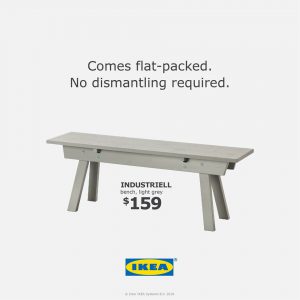 Netizens were visibly delighted as they praised IKEA for "throwing shade" so expertly and humorously at the LTA:

IKEA setting the "benchmark" (pun intended!) for sense of humor:

The LTA refused to be outdone by IKEA's clever ad, so they came up with something of their own in response, in an "IKEA-inspired" ad they posted on their Facebook page and on Instagram –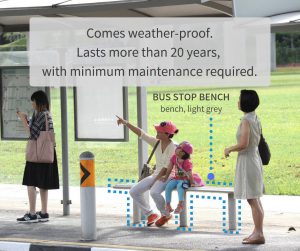 The LTA quipped back at IKEA's ad with this caption –
"IKEA, "Industriell" is one nice wooden bench you've got there! But,#IfOnlyWeCanUseYourBench
Our bus stop benches may come in different materials (such as aluminium or concrete and stainless steel), but they are all meant to last for more than 20 years – even with 24/7, 365 days of use by thousands of commuters each day, rain or shine! #YouGetWhatYouPayFor
We're always looking at ways to enhance daily journeys for you, our commuters 

????

 And this includes consideration for about 5,000 bus stops in Singapore with different designs, materials and features, so that we can meet commuters' needs while easing the maintenance of the infrastructure.

????

 #GiveChancePls 

????"
The ad, which even copied IKEA's add wording and design, boasted of bus benches that can last "more than 20 years" as they are made of aluminium, concrete or stainless steel. Apparently, all the current bus stop benches are made of aluminium.
An LTA spokesman revealed that the bus stop benches cost between $500 to $1,500 as they are made to withstand the daily wear and tear of thousands of commuters. #YouGetWhatYouPayFor was the hashtag used by the LTA in its post, which we are sure was a dig at IKEA's $159 price tag for their bench.
Some netizens seem to think it's ridiculous that bus stop benches are made to last more than 20 years when there are upgrades and renovations happening every few years, in keeping with Singapore's high standards: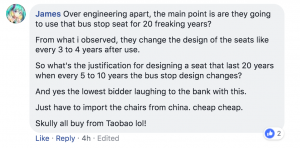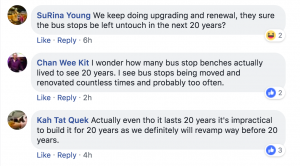 Others argue that the LTA benches really do last about 20 years:

And IKEA's furniture cannot hold a candle to the LTA bench's lifespan:


Others were impressed that LTA could throw shade so craftily back at IKEA as well: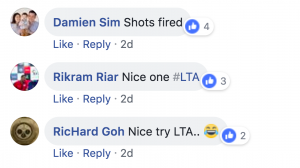 This guy had a brilliant idea:

After that ad by the LTA, the ball is in IKEA's court. We have yet to see if they are going to continue this cheeky battle-of-the-benches-cum-ad-war. Meanwhile, let us hope no one steals another bench.Follow us on Social Media
Send in your scoops to news@theindependent.sg