KK Women's and Children's Hospital (KKH) has announced that they have hired an independent panel to review and improve its system of dispensing medication after a baby girl was prescribed and given expired nasal drops last week. KKH has since apologized to the patient and her mother and has waived all future consultation and medicinal fees.
Ms. Judy Teo, mother to the "barely one month old" baby, reported that on August 25, her baby was given a nasal decongestant that was four months past its expiry date of April 2018.
Ms. Teo took to Facebook to air her concerns over the expired medication, which is called Iliadin.
Apparently, Ms. Teo was "horrified" when she saw the medication's expiry date, since she had been dispensing the nasal drops to her daughter, a very young infant, for over a month.
"We were wondering why is it so that she did not get better despite using the medication for one month plus," Ms. Teo had written. 
News of the incident reached KKH, and on Thursday, they issued an acknowledgment that the nasal decongestant, Iliadin, was indeed way past its expiry date when it was dispensed.
They also said that the medication may not have been effective and advised Ms. Teo to stop administering it to her daughter.
"We acknowledge that the nose drop was past its stated expiry date, with the possible loss of its effectiveness. We sincerely apologise for this," said Mr. Alson Goh, the chief operating officer of KKH.  
According to Mr. Goh, KKH is currently doing thorough checks on all medication stocks. All staff have been alerted to be very careful when checking the expiry dates on medications, and authorities at KKH have also reinforced appropriate measures.
"We have done a thorough check on all in-stock medications and staff have also been reminded to check expiry dates before issuing medications," Mr. Goh said.
Mr. Goh also commented that KKH has hired an independent review panel "to identify opportunities for further strengthening and improvement of our system in this regard".
The hospital has also "clinically followed up with the patient" and is providing the necessary support and advice.
Ms. Teo reported that she took her infant daughter to KKH for a follow-up consultation on October 3. During the consultation, the expired Iliadin nose drops were collected by the hospital and subsequently replaced with up-to-date, active medication.
Charges for the consultation and medication were waived by KKH "as goodwill and recovery work", said Ms. Teo.
Ms. Teo has been asked to bring her baby daughter for a follow-up consultation, which has been scheduled for October 24. KKH once again assured her that she will not have to pay for anything when she returns.
KKH nor Ms. Teo did not say anything to imply that the expired medication harmed the infant in any way, so we can assume that she will get the proper treatment and get better.
News of KKH dispensing expired medication to the baby girl encouraged some fiery reactions in netizens.
Some shook their heads over the process of prescribing and dispensing medication, with one netizen even suggesting that artificial intelligence should step in to avoid this kind of error: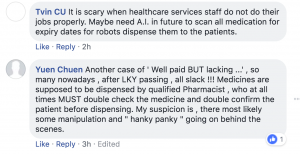 This user said that pharmacies have given wrong medication before and wondered about stock checks in hospitals:

This netizen seems shocked that this would happen in first-world Singapore:

Was it a specific person's mistake? Does KKH use a manual or computerized system?


Some hinted that "FTs" (Foreign Talents) are to blame:

At least the expired nasal drops did not harm the child, but this netizen asks what is next:

And perhaps we have all had this question in our minds – did the mother not check the medication expiry date before giving it to her infant daughter for more than one month?

Follow us on Social Media
Send in your scoops to news@theindependent.sg