Makansutra's founder KF Seetoh is no stranger to the issue on hawker stalls and the petition lodged by some hawkers at Jurong West Hawker Centre to remove the fee of 20 cents customers are paid for each returned tray. However, Seetoh was called out by spoof Facebook page 'SMRT Feedback by The Vigilanteh' for his hypocrisy.
Along with Facebook posts supporting the issue, earlier this month, Seetoh wrote an open letter to Senior Minister of State Dr Amy Khor asking her to preserve Singapore's public hawker centres.
https://theindependent.sg.sg/makansutras-founder-kf-seetoh-calls-out-kee-chiu-about-hawker-issue/
In his letter, he said that hawker centres should not be compared to private food courts, but that Social Enterprise Hawker Centres (SEHCs) should be compared to the other established NEA-run public hawkers centres instead.
However, Seetoh himself was called out by Facebook page 'SMRT Feedback by The Vigilanteh' alleging, "Seetoh shouldn't ride the high-horse to protest hawker rentals when he himself is charging exorbitant rates, like $10,000 per month".
The post also read, "Not only that, when I go to NTUC foodfare, I see Singaporean elderly cleaners. At Seetoh's 12 outlets, I see cooks, cashiers and cleaners all PRC".
'SMRT Feedback by The Vigilanteh' also alleged that at Seetoh's hawker stalls, "some hawkers have to pay up to $30K for renovation works".
The accusations continued in the comments of the post. However many netizens pointed out that some of Seetoh's foodcourts such as Makansutra's Gluttons Bay are places targeted at tourists, and therefore it would not be fair comparison against heartland hawker centres.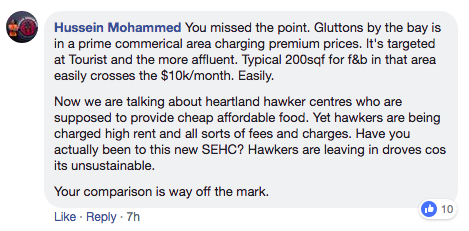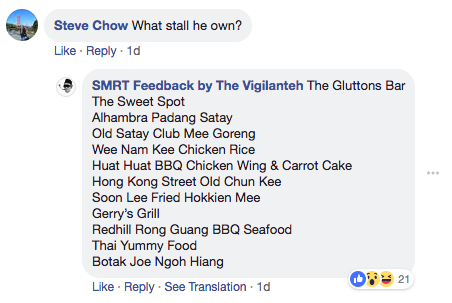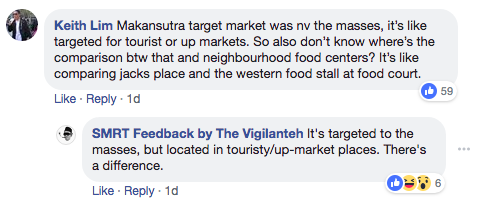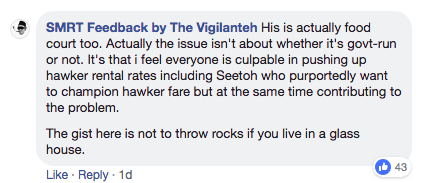 TISG has reached out to Seetoh for comment.
________________________________________________________________________
obbana@theindependent.sg
Follow us on Social Media
Send in your scoops to news@theindependent.sg