Different neighbourhoods in Singapore, naturally, have different prices for housing. Value Champion, a site that provides information regarding financial products, came up with figures on how much a person would need to earn in order to be able to pay for and live comfortably in a regular 4-room apartment in the different neighbourhoods in Singapore.
William Hofmann, writing for ValueChampion, estimated the site of the needed home loan, as well as the amount needed for monthly payments depending on median HDB resale prices, such as
Borrowers would need mortgages three quarters of the price of median resale.

Monthly payments with a 2.5 interest rate

The housing loan would have a 25 year tenure

Borrowers would allot 30 percent of their income on mortgage payments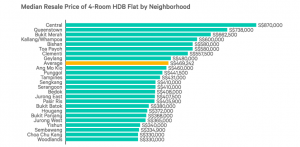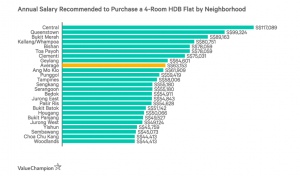 The second chart showed that one would need to earn at least S$100,000 per year to be able to afford the most expensive neighbourhoods in the Lion City, such as Bukit Merah or Queenstown.
The Ministry of Manpower (MOM) says that the professions that have incomes in these brackets are the following: financial or insurance services manager (S$112,255–median median annual gross wage), university lecturer (S$145,704), medical specialist (S$260,748).
As for neighbourhoods with more moderate prices, the kind of jobs people would need to have would be civil engineer (S$71,772), recreation centre manager (S$75,012) and sales and marketing manager (S$84,764).
In lower-priced neighbourhoods, the types of careers that would afford such areas include motor vehicle mechanic (S$38,135), chef (S$39,593) and bus driver (S$46,332).
Of course, smaller flats would cost even less, and would be more affordable all around.
Home buyers are usually required to make a 25 percent down payment on the purchase price, with 5 percent paid in cash, and the remaining amount with CPF Ordinary Account savings.
Mr. Hofmann wrote, "Ultimately, these estimates are useful for giving you the picture of housing affordability across various neighbourhoods in Singapore, but they should not be taken as strict rules as you plan to purchase a house. For instance, because these figures are based on the median price in each neighbourhood, there will undoubtedly be cheaper and more expensive homes in each neighbourhood."
He advised a thorough going-through of real estate listings in order in order to see what kind of homes an individual will be able to afford. Furthermore, Mr. Hofmann wrote that prospective buyers should do their due diligence "especially when it comes to comparing your loan options with different principal amounts, tenures and interest rates."
Follow us on Social Media
Send in your scoops to news@theindependent.sg