Nothing more can ruin one's day than getting late to an appointment because of the train. This was exactly what happened on Tuesday morning when a train fault at Marsiling Station caused an hour-long delay to the many commuters on the North-South Line.
SMRT said that at about 7:50 am this morning there was a problem with a piece of signalling equipment that stalled a train heading towards Jurong East near Marsiling station.
In a tweet, SMRT alerted the riding public to add 30 minutes of travel time from Woodlands to Yew Tee, in the direction of Jurong East. But commuters complained that there were delays too even in the direction towards the Marina Bay and that SMRT did not publicly announce.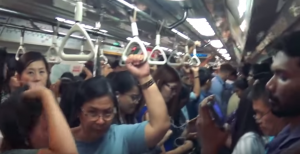 Photo: Screengrab from YouTube
Tweeter Hadi Abdul replied to SMRT's announcement, saying "So you never acknowledged the Marina Bay line delay till the end. Looks like a change in management hasn't improved the reliability of information. This page only exists to downplay the situation."
Others also said that the train fault affected other areas beyond Woodlands and Yew Tee, as one commuter experienced standing in the train at Sembawang for 40 minutes.
Free regular bus services between Woodlands and Yew Tee were offered to affected commuters during the delay.
According to Margaret Teo, corporate communications vice-president of SMRT, another train was activated immediately to push the faulty train to the station platform for commuters to disembark safely.
The faulty train was then hauled back to the depot for further checks, she added.
The fault had cleared an hour after their first public alert at 9:08 am. Train services were then back on track, SMRT confirmed.
"We apologise to commuters whose morning commute was affected by the incident," Teo said.
The train is one of the major modes of transportation in the island city-state. Every time there are mechanical problems, commuters are really affected by it. This is one of the reasons why they aired out their disappointments on the SMRT delays that happened, specifically on the increase of fares and the no announcement of other delays in other stations.










Other netizens colored it with political issues and other societal problems.





Follow us on Social Media
Send in your scoops to news@theindependent.sg