55-year old Daniel Lim, a stroke patient was unable to find a job that was able to suit his medical needs. After having to resign from his previous vocation due to his age, he was rather lost. Desperate, he turned to Assoc Prof Dr Muhammad Faishal Ibrahim. After sending an email, Daniel thought it was a long-shot and hardly expected a reply. However, one did come his way.
A few days later, Daniel got a reply from Dr Faishal asking about his preferred job and area he was comfortable to work in. Subsequently, the 55-year old received an email from the human-resource department of a notable hospital, inviting him for a job interview.
Five years later, Daniel, now 60, still took the opportunity to thank Mr Faishal on his Facebook page. He told TISG, "Previously I was working as an assistant to the director at a bean sprouts farm at Lim Chu Kang .
I emailed him to tell him of my predicament and need his help to get a job. I never expect him to reply but he replied me in less than a week".
He added, "I never raised my hopes because I knew very well that my age and my medical condition will be my greatest obstacles. But Mr Faishal sent a letter to the hospital and I got a reply calling me for an interview. That's how I got the job".
"This job at the hospital is one of the best. No discrimination on my age and my medical condition. Everybody treats me as an equal. I got my annual increment as well as a bonus. By the way I am working in the Finance Department, and I intend to work until I cannot work anymore", he added.
Even five years after receiving help from Dr Faishal, Daniel wrote to him on Facebook to thank him for the job.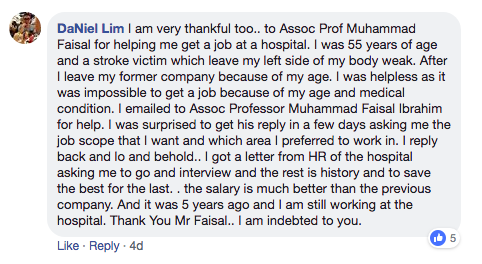 Daniel is not the only life Dr Faishal has touched. Recently, he helped a Malay couple appeal to get a rental flat.
https://www.facebook.com/muhammad.faishal.ibrahim1/photos/a.321659831327149/1124436147716176/?type=3&theater
________________________________________________________________________
obbana@theindependent.sg
Follow us on Social Media
Send in your scoops to news@theindependent.sg