A rather heroic video of a group of cyclists coming together to save a cat from drowning has gone viral online and on social media. The incident, which took place at Pasir Ris park on Sunday has garnered many praises from netizens and animal-lovers alike.
https://www.facebook.com/allsgstuff/videos/1832946166781758/
The video of the incident, shared by netizen Mel Maloz has garnered 27,000 views since it was shared. In it, two men can be seen to be holding on to the rope of a life buoy, while a third man slides down the bank of a water body so as to rescue a cat stuck on the side of the bank.
Within minutes, a third cyclist can be seen bringing a long pole so as to help as well. At the start of the video, a cat seems to be stuck dangerously close to the water, unable to move, on the sloping wall. The man slowly gets lowered down with a life buoy to the cat. Even as he is close to the cat, it seems reluctant – or possibly unable – to take a few steps upward to climb onto the life buoy. Eventually though, the man strokes it and lifts it onto the buoy where it is pulled upwards and able to climb to safety.
One netizen asked why the cat could not just climb to safety itself. Another, Karen Juanita Letchmanan said, "The cat was about to die… It was swept all the way from Tampines and had consumed water.. Lots of it… It was lifeless".

The praises and cheers for the team poured into the comments section of the post, commending the men for their efforts.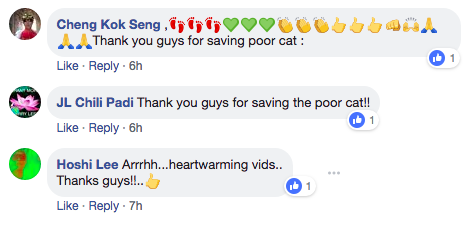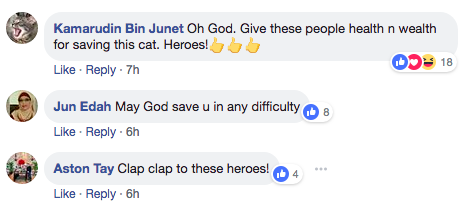 ________________________________________________________________________
obbana@theindependent.sg
Follow us on Social Media
Send in your scoops to news@theindependent.sg