It may be the modern age, but respect is not dead. A heartwarming photo of delivery company Foodpanda's riders assisting an elderly man cross the road was posted on Facebook page All Singapore Stuff on Wednesday, October 24. Amidst all the negativity in the news, we need more stories (and actions) like this to remind us that kindness and respect are not virtues of the past.
This post may be the very thing that brightens your day. All Singapore Stuff Facebook page usually receives posts on odd happenings or people breaking some law or other, so this heart-stirring post made for a refreshing change.
The original post by the uploader, Siti Nurjannah Jamil, was captioned with these words –
"Just awhile ago. They don't only deliver food. But great helping hands too. I don't know them but all I know they have awesome heart. I was only waiting to ride across the road. Hats off to these Foodpanda guys! 

????

????

????"
https://www.facebook.com/allsgstuff/posts/2798447310295980?__xts__[0]=68.ARAlfVoD5j1Sx5Cc6A3edFUKU8bghuG2DCJ7JFrNfrWgul8X37jyR3BhHtjBvY2AJWPtbn0gJwAZhxC_WgazM9eOngZtck7n5VCpaWNRUvMrQMWi4hIMt9WMy9yI1UOn3wfaSYWQ9ZKivi7cC45rasoZf7hqhYJ_CpAWWBcHFe43BDqyx92WtZHShrdV9CmWjY8sms32eVkFMB7UvQbpdizWSBA&__tn__=-R
The photo, which was captured somewhere in Yishun, made people's hearts melt with gratitude toward the Foodpanda riders: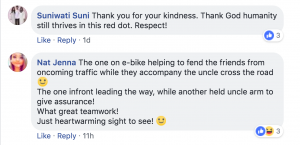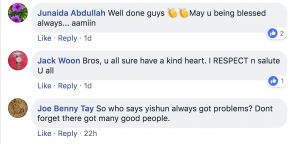 What goes around, comes around: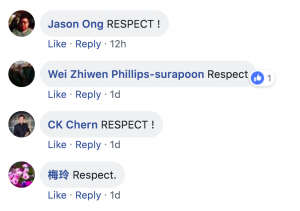 Some people always find something to gripe about, though:

Others nipped that negativity in the bud: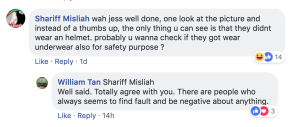 And instead of focusing on the act of kindness, someone decided to remind everyone that they were crossing during a red light:

But this netizen shot the bad vibes down and brought the focus back to helping others:

Amid the gratitude, there were a few who commented that someone of a higher social class may not have helped the elderly man:


The topic of the deepening class divide in Singapore, which The Independent covered in another piece, is a very pertinent and timely one. In Channel NewsAsia's episode called "Regardless of Class", Singaporeans from different class spectrums were interviewed on the kind of treatment they receive from their fellow man. Many citizens from the lower income bracket  said that they often felt "invisible", were treated poorly and felt less important as people because of their lower income professions.
This all ties in with Prime Minister Lee Hsien Loong's speech at the 2018 National Day Rally, where he stressed that as Singapore progresses, it cannot leave its poorer citizens behind.
Ultimately, it's all about respect and kindness for fellow man, regardless of class, race, religion or any other factors that differentiates us from one another.
Kudos to the Foodpanda riders and to all the nameless Good Samaritans out there who help others when no one is looking.Follow us on Social Media
Send in your scoops to news@theindependent.sg