Ex-Foreign Affairs Minister George Yeo shared on Facebook that he took former Taiwan President Ma Ying-jeou out to eat Bak Kut Teh, last Friday (7 June).
Mr Ma served as President of the Republic of China from 2008 to 2016. His previous political roles include Justice Minister, Mayor of Taipei and Chairman of the Kuomintang.
Mr Ma's term as president saw a significant increase of economic improvement in Taiwan and warm social connection with Mainland China. He became the first Republic of China (ROC) Head of State to meet with a Communist Party General Secretary when he met Xi Jinping in Singapore in November 2015.
Mr Yeo is a former military man who rose to the rank of Brigadier-General in the Singapore Armed Forces. He left the army to pursue politics in 1988 and was elected into Parliament that year, before going on to serve in various ministries, including the Ministries of Finance, Information, Communications and the Arts, Health, Trade and Industry and Foreign Affairs.
At the 2006 general election, Mr Yeo led the incumbent People's Action Party (PAP) team in Aljunied GRC which defeated the team from the opposition Workers' Party (WP) with 56.1% of the votes to 43.9%. This was the PAP's narrowest margin of victory in the elections that year.
At the 2011 general election, the then-Foreign Affairs Minister led the PAP team in Aljunied which was defeated by the WP team. Mr Yeo thus lost his seat in Parliament and his ministerial appointment. After considering joining that year's presidential election race, he eventually joined the private sector.
Calling Mr Ma an "old friend," Mr Yeo revealed that he had breakfast with the former ROC head of state at the famous Old Tiong Bahru Bak Kut Teh eatery, on Friday.
Mr Ma was in Singapore to promote his new book, Memoirs of My Eight-Year Presidency: 2008 to 2016. On Thursday (6 June), a day before he met Mr Yeo, he signed copies of the bestseller at the Singapore Book Fair.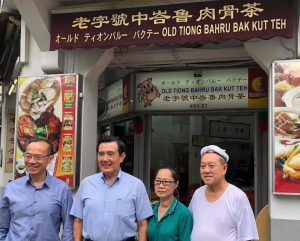 In one of Mr Ma's most recent Instagram posts, he revealed that he is a fan of Bak Kut Teh as he posed in front of multiple frame photos capturing visits to Bak Kut Teh stalls: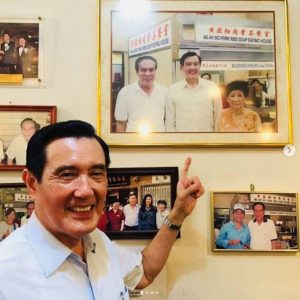 -/TISGFollow us on Social Media
Send in your scoops to news@theindependent.sg