During his most recent trip to the US, Emeritus Senior Minister (ESM) Goh Chok Tong bore witness to New York City's support for the lesbian, gay, bisexual and transgender (LGBT) community, in commemoration of Pride Month.
The month of June was chosen for LGBT Pride Month to commemorate the Stonewall riots, which occurred at the end of June 1969. As a result, many pride events are held during this month to recognize the impact LGBT people have had in the world. This year's Pride Month is particularly notable since 2019 marks the 50th Anniversary of the Stonewall riots.
New York City is the host nation of WorldPride this year. The American city hosts the largest pride parade in the world and opening and closing ceremonies, besides multiple events expressing support for and solidarity with the LGBT community.
Noting that "New York parades the 'rainbow'" in the month of June, ESM Goh shared that he even saw two men getting married in Central Park. In a Facebook post published yesterday, the former Prime Minister wrote:
"This month, New York parades the 'rainbow'. Saw two men exchanging vows in Central Park (did not take pic out of respect for their privacy), buskers, and people enjoying themselves in the cool sunshine."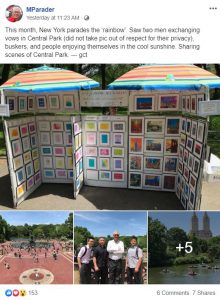 While members of Singapore's leadership have made positive comments on the LGBT community, the ruling People's Action Party (PAP) Government is hesitant to repeal Section 377A and continues to retain the law that criminalises gay sex, despite widespread calls to repeal it.
While the British colonial-era legislation is very rarely enforced here, a man found to have committed an act of "gross indecency" with another man could be jailed for up to two years under Section 377A. -/TISGFollow us on Social Media
Send in your scoops to news@theindependent.sg