A story published on Sunday, September 2, featured a family of four with a combined income of $7000 a month. However, the young parents wondered if they could possibly afford to educate their young children.
Kelward Ong and his wife Felicia Koo have two children, ages 5 and 2. Their income puts them in the middle class income bracket but they are concerned about the future. They live within a budget and habitually live an economical lifestyle—no car, a four-room apartment— with few luxuries.
Ms. Koo says that she agrees with what the Prime Minister said about Singaporeans needing to proactively stretch their funds. However, she and her husband still worry about the future. The paper quotes Ms. Foo as saying, "That's the expenditure I'm most worried about about—the kids' education."
In the article published in The Straits Times, Ms Koo said that while her children are not yet in enrichment sessions, this is something she obviously sees as a necessity in today's society. "If you look at the education standards in Singapore, you either keep up or get left behind, and, in order to keep up, we'd have to send the kids for enrichment classes to prepare themselves."
Ms. Koo desires to stop working, but knows that cannot afford it until the children are at the polytechnic or university level. She admitted that the family will not have enough to pay for bills should either she or her husband stop working.
The article seemed to strike a chord with some Singaporeans, who have similar experiences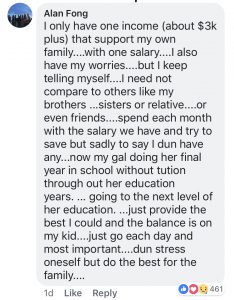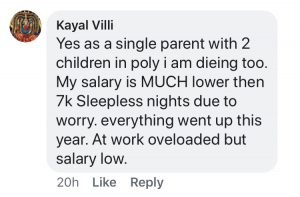 Others disagreed, saying that $7,000 a month is more than enough to live on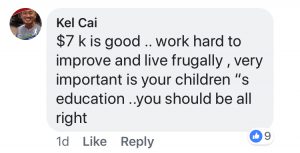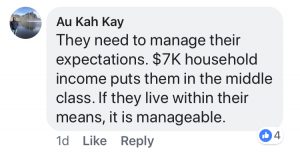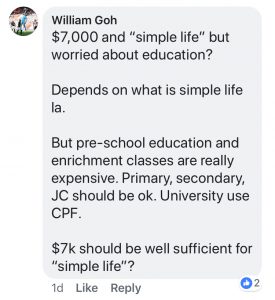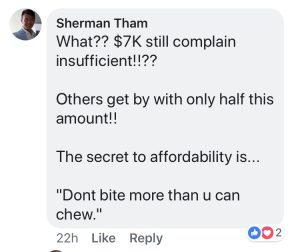 Others maintained that the family simply needed to make sacrifices and live within their means, not having too many wants.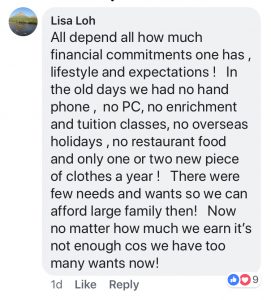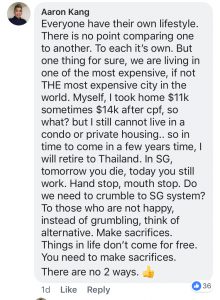 Follow us on Social Media
Send in your scoops to news@theindependent.sg