Singer Camila Cabello is dating singer Shawn Mendes, but he is on tour at the while Camila is slated to perform at two Jingle Ball shows for the month of December.
With the busy schedules of the pair, Camila Cabello has found the best red carpet date and no, it's not her boyfriend Shawn Mendes.
She walked down the red carpet with her pooch, Eugene before her big performance at the KIIS-FM Jingle Ball in Fort Worth, Texas and they looked absolutely adorable posing for the cameras.
The singer originally hinted that her furkid, Eugene was out on the road with her for her Jingle Ball stops when she posted a photo of her holding him while showing off her cowboy hat and she gave "Old Town Road" rapper Lil Nas X a little shout out.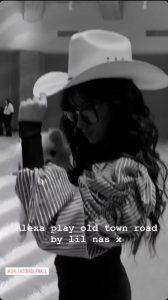 On Instagram, she uploaded a photo of her with Eugene on the red carpet captioning the photo that Eugene is her sweet baby boy.
Her fans have nothing to worry about the celebrity couple even though Shawn didn't walk down the carpet with Camila. The singer is in Brazil performing for his last leg of Shawn Mendes: The Tour.
Due to sickness, Shawn had to cancel a show in Sao Paulo but will continue the tour with his next stop in Rio de Janeiro, before hitting up Argentina, Chile, Peru, and Mexico and then heading back home for the Christmas holidays.
It is also a busy month of December for Camila. She will perform next in Los Angeles, Minneapolis and New York City after her appearance at Fort Worth's Jingle Ball.
In other news, although the couple only started dating not too long ago, it was reported that Camila had feelings for Shawn way before that.
We hope that Shamila will be able to celebrate the holidays together soon!