Singapore—Opposition leader and longtime Member of Parliament (MP) Low Thia Khiang is currently with MPs from the ruling People's Action Party (PAP) on a trip to Jakarta, Indonesia.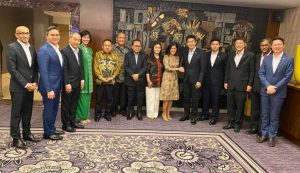 The Singaporean delegation is made up of by Speaker of Parliament Tan Chuan-Jin, and PAP MPs Joan Pereira, Gan Thiam Poh, Henry Kwek, Saktiandi Supaat, and Murali Pillai.
Mr Low, the leader of the opposition in Parliament, has been an MP for 28 years, since 1991, making him the longest-serving opposition MP in the country's history.
Mr Tan posted about the visit on his Facebook page on Tuesday, November 19, sharing photos of the MPs meeting Indonesian leaders from the DPR (House of Representatives) Commission, which he explained is akin to Singapore's own Government Parliamentary Committees (GPC) which cover foreign relations and security.
The Speaker of Parliament added in his post how important it is for the governments of different countries to maintain strong connections.
"Government to government links remain important. This is where the cabinet ministers meet, alongside the civil servants from both sides. What we Parliamentarians do is the same except that we develop the friendship and relationships at the Parliament and Parliamentarian levels. It is similarly important to do this so that we have multiple tracks and channels in this relationship."
Mr Tan went on to say that he had talked to the head of the DPR Commission, who had once lived in Singapore and had done her secondary school studies here, and that he was looking forward to spending time with Singaporeans living in Jakarta the following day (Wednesday, November 20).
Commenters on the Speaker's post commended the spirit of bipartisanship displayed in the Jakarta visit.


When one commenter tried to insinuate otherwise, Mr Tan was quick to refute this.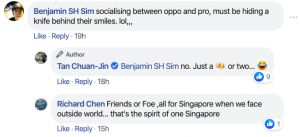 This is the second time in recent months that a bipartisan visit, with WP MP Pritam Singh, the party's Secretary-General, accompanying PAP MPs and a nominated MP to a visit to Thailand in August. Mr Tan was present at this visit as well.
In a Facebook post, Mr Pritam said that at times he is asked, while on working trips abroad, how it's possible for Members of Parliament from opposition parties to "operate in a bipartisan manner with the PAP MPs" given that they sit on opposite sides back home.
He wrote that putting Singapore's welfare first is the key. While they may differ on many fronts while at home in Parliament, overseas, presenting a "broadly united front" for the good of the country is part of WP's beliefs.
"Everyone, including the opposition, wants Singapore to succeed and envisions a better future for our people. Disagreements, different approaches/philosophies is a reality of the human condition. It is no different in Singapore. Our parliamentary democracy gives us the platform to have different views represented in Parliament and to debate and criticise ideas and policies. But once we leave our shores, a broadly united front amongst all parliamentary MPs is consistent with the better future we in the WP seek for Singapore."
-/TISG
Read related: Pritam Singh: PAP and opposition MPs are a 'broadly united front' overseas
Pritam Singh: PAP and opposition MPs are a 'broadly united front' overseas
Send in your scoops to news@theindependent.sg