Kuala Lumpur—The supposed Prime Minister-in-waiting Datuk Seri Anwar Ibrahim has divulged conspiracy against his succession plan as the next Prime Minister after Dr Mahathir Mohamad.
The move to sabotage his plan is happening in Pakatan Harapan (PH), the current ruling party of Malaysia. This is the first time for Anwar to declare that there are people out to stop the arrangement between him and Mahathir Mohamad.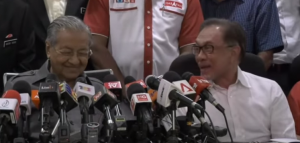 Photo: Screengrab from YouTube
During the interview, he claimed: "There are pockets, people who, for their own reasons, would like to sabotage the arrangement. I can't deny, some people in the ruling coalition (have) a different agenda."
Anwar, the Port Dickson Member of Parliament, did not name the move behind all of this. He did mention of Facebook posts and a statement by unnamed "minister".
During the run-up of the last PKR polls, conspiracy attempts were raised by his supporters.
A loyal supporter of the Parti Keadilan Rakyat (PKR) president Anwar, the veteran's group Otai Reformasi, also claimed that two people in the party want to prevent him from becoming prime minister in two years' time.
The loyalists would protect Anwar from the saboteurs, saying:
"Otai Reformasi will oppose anyone who attempts to thwart Anwar from becoming prime minister, (a plan that has been) agreed to. He did not mention names, only saying Facebook posts, including a statement by "a minister".
Sabotage attempts surfaced during the PKR polls campaign, coming from Vice-president Rafizi Ramli's camp asserting that deputy president Mohamed Azmin Ali did not want Anwar to become the next prime minister.
On the other hand, the PH secretary-general Saifuddin Abdullah was quoted saying:
"There is no formal agreement for Dr Mahathir to hand over the reins to Anwar in two years."
But Anwar argued that there is no reason not to believe PM Dr Mahathir's repeated statement saying he will stick to the plan of Anwar's transition to power.
Months ago, he said he was not in a hurry to take over the PM post and said this statement pointing out to Dr Mahathir: "Let him have the space and latitude to continue unaffected by the constraints of time or pressure. That is very important."
Also, political controversy sparked between Anwar and Azmin over the former's decision to appoint those aligned with him to the PKR central leadership council despite them having lost in the party elections.
Anwar's wife, Datuk Seri Dr Wan Azizah Wan Ismail, was also quoted saying "Keep cool, cool" addressing to PKR deputy president Datuk Seri Mohamed Azmin Ali over his dissenting views on the party president's recent appointment of leaders.
This breaking news straight from Anwar's mouth made netizens more engaged with politics. Some were also supportive of him being the next PM, while others gave comments about this political roundabouts.



Photo: Screengrab from Facebook
Follow us on Social Media
Send in your scoops to news@theindependent.sg