Activist Kirsten Han has criticised Speaker of Parliament Tan Chuan-Jin for "seemingly endorsing people who label fellow Singaporeans such as myself "treacherous"."
Ms Han was referring to a Facebook comment the ruling People's Action Party (PAP) politician left in response to another netizen's remark that certain Singaporeans have spoken out against Prime Minister Lee Hsien Loong's recent remarks on the Vietnam-Cambodia relationship.
Criticism against the Singapore Head of Government mounted after he published a Facebook post on Friday (31 May), which described a letter he had sent to his Thai counterpart to express his condolences on the passing of former Thai PM General Prem Tinsulanonda. He wrote, in part:
"His leadership also benefited the region. His time as PM coincided with the ASEAN members (then five of us) coming together to oppose Vietnam's invasion of Cambodia and the Cambodian government that replaced the Khmer Rouge. Thailand was on the frontline, facing Vietnamese forces across its border with Cambodia.

"General Prem was resolute in not accepting this fait accompli, and worked with ASEAN partners to oppose the Vietnamese occupation in international forums. This prevented the military invasion and regime change from being legitimised. It protected the security of other Southeast Asia countries, and decisively shaped the course of the region."
Cambodian politicians and prominent academics have lashed out at PM Lee's remarks, asserting that the Vietnamese rescued Cambodians from the Khmer Rouge. A spokeswoman for Vietnam's Foreign Affairs Ministry also said that Vietnam "regrets" that PM Lee's statement did not reflect history objectively and caused negative public opinion.
Some Singaporeans, like Ms Han, commented on the issue. On her Twitter page, Ms Han shared Cambodia's response to PM Lee's comments and mused what would have happened if Cambodia enacted an anti-fake news law similar to Singapore's and issued a correction order to PM Lee.
In a Facebook post published on Friday (7 June), Mr Tan weighed in on the issue and said that while Vietnam may not appreciate PM Lee's comments, this does not detract from the friendship between the two nations.
Lashing out at Singapore citizens who criticised PM Lee, however, Mr Tan wrote: "The strange thing is to see some Singaporeans (I assume they are and not created entities from other countries) who happily jump on the bandwagon and take issue with our Government and having no regard for history.
"Perhaps they have not read nor have any idea about what happened? Or worse. They know but still choose to snipe because it's politically expedient."
Responding to Mr Tan's Facebook post, one netizen asserted that while he can empathise with the Vietnamese, he finds fellow citizens who commented on the issue like Ms Han "behaving in a treacherous manner against our own Nation."
Replying to the netizen's comments calling fellow Singaporeans "treacherous," Mr Tan wrote: "Unfortunately it's not surprising is it?"
In a subsequent comment on the same thread on Mr Tan's Facebook post, Ms Han asked: "Hi Mr Tan Chuan-Jin, even if we don't agree politically, surely it isn't appropriate for a Speaker of Parliament to not only not call out, but seemingly endorse or agree with, comments that label fellow Singaporeans as "treacherous" or "traitors"?"
Mr Tan did not reply to Ms Han.
Posting screenshots of the exchange on Twitter, Ms Han asked: "Why is Singapore's Speaker of Parliament not only not calling out, but seemingly endorsing people who label fellow Singaporeans such as myself "treacherous"?"
She added that she would have tagged Mr Tan on Twitter to ask but he has purportedly blocked her on Twitter "for some time now." Read the exchange here: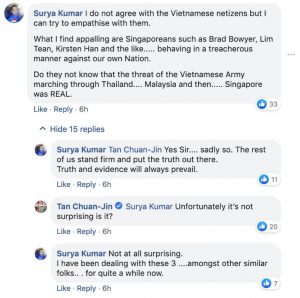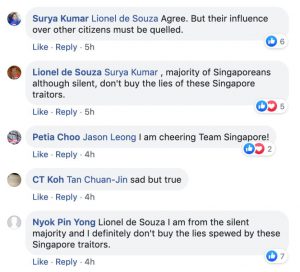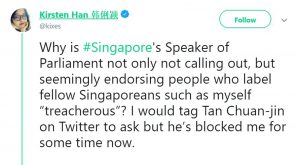 https://theindependent.sg.sg/vietnam-joins-cambodia-in-chorus-of-criticism-against-pm-lee/
-/TISGFollow us on Social Media
Send in your scoops to news@theindependent.sg