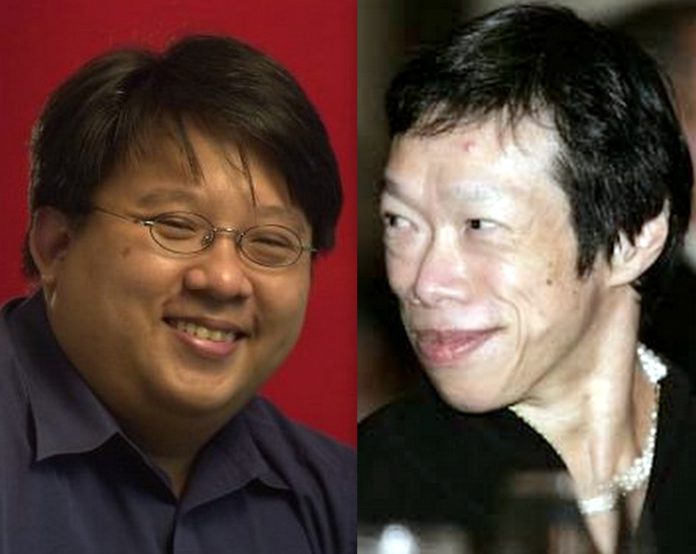 UPDATE: Mr Chia Han Keong acknowledges that his opinion was too strongly worded. We publish his clarification in full:
"Hello all,
Earlier today, I posted a Facebook post expressing my views about Dr Lee Wei Ling's views about how Singaporeans have been remembering her father on his death anniversary. In hindsight, the post was too strongly worded.
I've since taken down the post. I would also like to add that as this is my private account, my views do not represent that of my company, the Singapore Press Holdings Ltd, nor those of my newspaper, The Straits Times.
Regards
Chia Han Keong
Assistant Sports Editor
The Straits Times/The Sunday Times"
—
The Straits Times' Assistant Sports Editor, Chia Han Keong, is upset that Mr Lee Kuan Yew's daughter, Ms Lee Wei Ling has written a post in her Facebook asking Singaporeans to stop hero-worshiping her father. He wrote in his Facebook, "Yah yah yah, one little chiding by the daughter, and now everyone regrets remembering LKY. Too late, mofos."
A reader has also sent us a screencap of Mr Chia's post on the topic. In the post he criticised Ms Lee for being a "sourpuss" and said that "if we hadn't done this barrage of tributes, some political enemies might write bad things about us". He asked Ms Lee to be glad that "we don't spit on your dad's grave."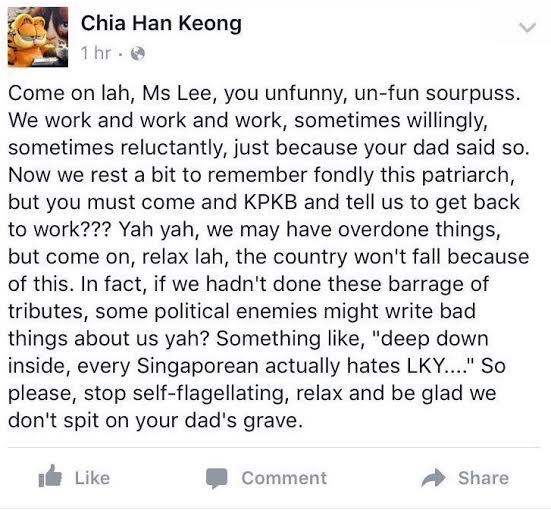 The Straits Times led the sycophantic hero-worship of Mr Lee Kuan Yew with an entire series of articles in their newspaper just one year after the former Prime Minister's death.
The letter writer, Ms Poon asked if The Straits Times was threatening to spit on Mr Lee Kuan Yew's grave. She added, "I am shocked and appalled by this man's insensitivity, and expected much more from a distinguished newspaper."
Mr Chia has been in the employ of the Singapore Press Holdings – the parent company of The Straits Times – since 2002.