After discussions of the possible ban of smoking even in one's home, Singaporeans have taken to the Internet to express concerns of being stifled by all of the regulations they gripe that are imposed on them. The bid to curb smoking in HDB flats has also once again triggered issues of home ownership, with many questioning, "After all, HDB flats do not belong to us, right?"
Online 'meme's can be seen flooding social media expressing concerns that Singaporeans face.
One netizen, Dan, took to Facebook with a meme about apartment blocks in the future as he saw it, where the blocks were being divided into 'smoking blocks' and 'non-smoking blocks'. His projection was complete with a designated yellow box around the entire block to indicate the area in which people are allowed to smoke.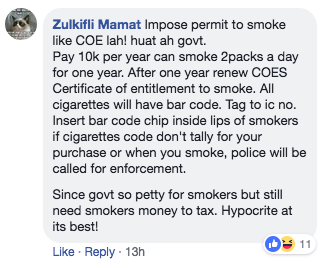 Another, Francis 'Gemuk' Teo, griped about how even at coffee shops, rules on drinking hours were enforced a lot more, even asking patrons to leave by midnight.

There were also memes created detailing the endless list of rules imposed upon HDB-dwellers by the year 2048.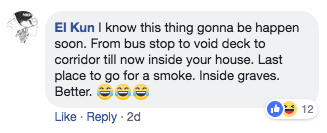 Though these memes were created in jest, to shed some light-heartedness upon issues that have caused much discord in the country, they all do have a common underlying message amongst them.
________________________________________________________________________
obbana@theindependent.sg