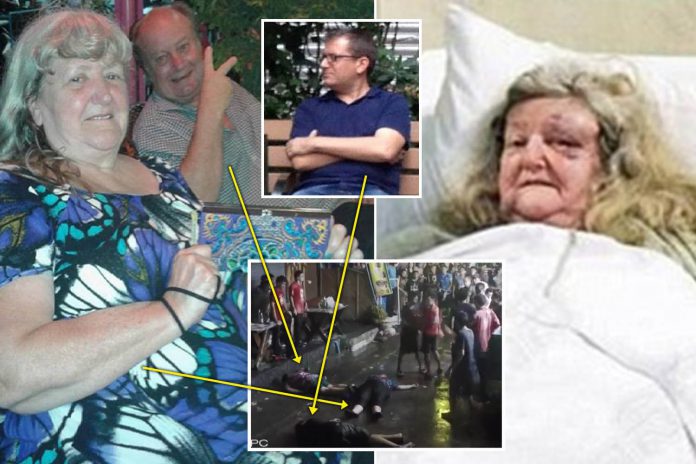 Three days ago, an expatriate working in Singapore, Lewis Owen Jr and his elderly parents in their 60s were viciously attacked in Hua Hin, Thailand.
Lewis Jr, a British national aged 43 works as a graphic designer here. A 2 minutes 22 seconds video footage showed that the fracas started when Lewis Jr brushed past a group of men who were already engaged in heated argument. He was pushed to the ground.
Lewis Jr's mother intervened at this juncture and slapped the Thai man who pushed her son to the ground. The man floored the 68-year-old woman. This was when all hell broke loose.
The man than floored Lewis Jr who rushed to his mother's aid. Mrs Owen who appeared to revive at this juncture was kicked in the head by another member of the four-man-gang. Lewis Snr who rushed to defend his wife was kicked in the face by yet another.
The trio were helped by those standing-by in shock and fear after the four-man-gang left.
[fvplayer src="http://youtube.com/watch?v=cUAZReH7dx4″]
Four suspects, two aged 32 and two aged 20, are now in custody. Lewis Jnr reportedly needed 16 stitches to his head. He said the family will never return to Thailand. "I'm not going back to Thailand again. Mum and dad won't be either. Never, ever again."