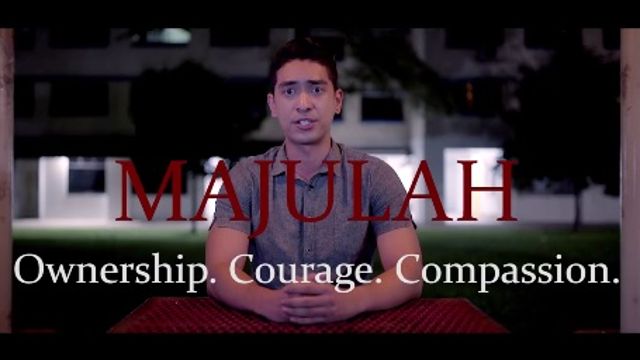 Divian Nair and his team from 'We are Majulah' have produced a video which suggests that 'Singapore has a problem'. He said unlike the Americans who had 'freedom' to bind them, and unlike the French who are held together by their belief in 'liberté', we do not have a 'glue' to hold us together as a nation.
Divian then introduces a word 'majulah', which is the first word in the title of our national anthem, to suggest that it is this word which should be the glue that holds us together.
He said 'majulah' is not a Malay word, but is a unique word because it is formed with the input of two other cultures (Chinese and Tamil), and also because the word calls us to action. 'Majulah' means 'let's go forward'.
The video has now gone viral and has been shared over 10,000 times on Facebook, and over 15,000 times on Youtube.
Many of the comments on the video posts were positive. Some though, have said that it is just fluff.
[fvplayer src="http://youtube.com/watch?v=zot6r2SuksU"]We share here a comment found on his video post on facebook. Facebook-user Chris Wong disagrees with Divian and explains why:
–In Chris Wong's words–
"You want a compelling argument? Here's a few.
1. Weekend bomb scenario
Your premise of using this example is so wrong. It is the type of belief that you are propagating that brings people to believe that defending their freedom and way of life is more important that life itself.
Let me offer a counter perspective. Imagine you're the bomber. You're sitting on a train a in a foreign country, after taking a 12 hour plane ride from home. You leave your teary eyed wife and unborn child whom you'll never know. You don't know anyone in this country that threatens your way of life, and the last contact you had was with the man who gave you the bomb. He says,'this is to protect your wife and children at home, this is to protect our way of life, our culture, only you can do it, and you have to'.
With regards to terrorism and such, alertness is key. But do not ever ever mix this message with patriotism.
Do not ever tell me that I would not stop a bomb because I love my life more than my loved ones.
As for the bomber himself, I would like you to recognize that like another person on the street, he probably watched a video similar to yours and felt the need to defend his way of life for his future generations.
2. My name is Chris Wong
I was born to a low income family, with a younger brother to take care of. Like you, I lived in a HDB flat, but unlike you, when we were sick or injured, we would be afraid to go to the hospital in fears that our parents cannot foot the medical bills. I also remember reading Russel Lee's ghost stories and browsing through them in Popular bookstore but realizing that I cannot afford such luxuries. Singapore is also my only home. Do you care?
So who give's a fxx about who you are and what you think? Sure, Singapore is your only home, its also the only home to 2 million other people.
3. Why do we not want to defend this country?
Blame the internet and technology for giving people freedom to think. Not the people.
4. France's 'liberty' and U.S.' freedom
I don't know whether you know this or not, but please read up on how many people died for these ideals, and how many lives were lost to protect and raise these. Even until now, lives are lost and people are killed to protect these ideals. These ideas don't just drop from the sky and come to fruition. It is a seed that grows from the blood of sacrifices.
Singapore has not even been exposed to a single major conflict, so don't start rambling about identity and what we should or should not protect.
5. Majulah!
I don't know about you, but the video you showed of the Indian construction worker saving the baby shows the irony of how you present 'majulah'. That Indian and many others like him will never be granted a place in Singapore, after his usefulness has run out, he's going back to where he came from.
Also, Majulah represents only 1 ethnic culture at the forefront and 3 others in the 'lah'. Is that how Singapore is represented?
6. Ownership. Courage. Compassion
Let me tell you what I think of these words.
Courage is not when we scream war-cries to rally the people.
Courage is when you help the ailing uncle who pushes stacks of trolleys in spite of not knowing him.
Courage is when you step up for ANYONE regardless of their nationality when they are being bullied by others.
Courage is not about being a lion.
Compassion is not about encouraging one another.
Compassion is reaching out and helping one another.
Compassion is when you help out at the charity fundraiser to raise funds for the poor.
Compassion is about 'I'm not going to let you suffer like this'.
Compassion is not about 'I'm sorry you have to go through this, but hey, majulah'.
Ownership.
You are born with nothing, and so you will depart with nothing. Never take pride in a country. Take pride in what your country has done for mankind. Take pride in what you have done for the world.
7. Conclusion
It was never about race or religion, privilege or status. It is about being a basic, functioning human. A human to be of a benefit to himself, and to society.
So shut the fxx up, with the propaganda."
–end–