Hong Kong — Redmi, the budget brand of Chinese electronics company Xiaomi, found itself in hot water recently due to some references to the Hong Kong protests in its recent advertisement.
On August 27, Redmi TV's commercial on Weibo for the brand's smart TV line described the video content on its platform as "the five platforms, not one less." Moreover, this was shown in bold characters in Chinese, as reported by the South China Morning Post (SCMP).
This was a not-so-veiled reference to the "five demands, not one less" that protesters have made in Hong Kong, as a prerequisite for ceasing their demonstrations, which have intensified over the last 11 weeks. These demands include the total withdrawal of the controversial extradition bill over which the rallies began in the first place a few months ago.
In the Redmi commercial for its smart TV line scheduled for launch on Thursday, August 29, China's biggest online video providers, iQiyi, Tencent Video, and Youku, are included.
SCMP reports that a Chinese website, state media Global Times- owned Huanqiu.com has called the commercial "brainless" and "hopeless."
This caused the Redmi commercial, which had previously received little traction online, to begin to trend on Sina Weibo, which many consider to be China's equivalent of Twitter.
Redmi then changed its advertisement with one that contained only one phrase, "Huge content."
This got a thumbs-up response from Huanqiu, in a show of praise for the immediate correction of the issue.
Xiaomi has declined to comment.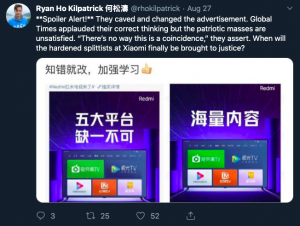 According to the website Quartz, the incident may have backfired for Huanqiu.
"Ironically, some Chinese internet users say they used the incident as a chance to learn more about the reality of the Hong Kong protests, which have largely been depicted in the official state media narrative as an unpopular movement initiated by a small group of extremists who advocate for independence."
One Weibo user said, "I had no interest in the ad initially, but thanks to Huanqiu I actually learned more about the protests using the opportunity."
Other Weibo users said they found that Hunaqiu committed "literary persecution" against Xiaomi and that Hunaqiu was "overacting."
But the electronics company is not the first one to cross swords with China because of the protests in Hong Kong. Recently, Hong Kong's flagship carrier Cathay Pacific has been under Beijing's watchful eye because of its employees' support for the protesters and their demands, resulting in several of the airlines' executives and employees either resigning or getting terminated. This notably included the Chief Executive Officer of Cathay Pacific, who stepped down from the position recently.
Even Japanese company Pocari Sweat, which manufactures sports drinks, has been roundly condemned by state-owned media after Pocari Sweat's Hong Kong division allegedly stopped advertising on TVB, Hong Kong's biggest television station. TVB has been criticized for taking China's side in its coverage of the demonstrations.
Some state media outlets have even called for the boycott of Pocari Sweat./ TISG
Read related: Netizens urge YouTube to ban Chinese media sponsored ads spreading misinformation about Hong Kong protesters
Netizens urge YouTube to ban Chinese media sponsored ads spreading misinformation about Hong Kong protesters