In lieu of Singapore's 53rd National Day, the Workers' Party released a wordless video focusing on the soundscape of Singapore.
Yes, that's right, their video has no words, or dialogue.
The two-and-a-half minute long video takes one through a journey of the sights and sounds in Singapore; the void deck of a HDB block late at night, a busy bus-stop, a crowded hawker centre, a park where a grandmother takes her grandson for a walk.
All of these are simple experiences, yet ones that fall right into the everyday lives of so many Singaporeans.
The video focuses on the sounds of these places – as familiar as they are – and serves to resonate within the everyman.
Netizens who watched the video were pleasantly surprised by this audible treat and felt that a relatable message was conveyed nonetheless.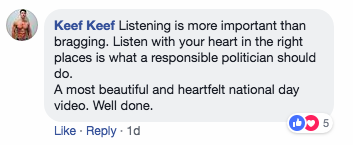 ________________________________________________________________________
obbana@theindependent.sg
Send in your scoops to news@theindependent.sg