Workers' Party (WP) politicians Leon Perera and Png Eng Huat are set to question Education Minister Ong Ye Kung on Government spending on foreign students, when Parliament re-convenes on Monday (5 Aug).
Mr Perera, a Non-Constituency Member of Parliament, has filed the following questions to ask Mr Ong: "(a) what is the trend for the total average amount of Government spending on foreign students per year over the past 10 years;
"and (b) what is the current percentage of foreign students receiving any form of state financial aid out of the total student population (both foreign and local) in polytechnics, junior colleges and autonomous universities."
Mr Png, the elected Member of Parliament for Hougang, is due to follow-up on these questions and ask the Education Minister: "(a) what is the number of international students who have defaulted on their tuition grant bond obligation in the last three years;
"(b) what is the amount of grants given to these defaulting students;
"and (c) what are the results of the recovery efforts made."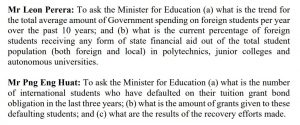 In Parliament last month, Mr Perera asked the Minister for Education what is the total Government spending on scholarships and other forms of financial aid given to foreign students studying in Singapore schools and universities, in each of the past five years.
In a written reply, Mr Ong revealed that the total Government spending for international students "comes up to around $130 million a year." The People's Action Party (PAP) politician's revelation drew swift backlash from Singaporeans.