A video has been circulating on social media showing viewers how to dismantle the locking mechanism of an oBike for personal use.
While the video also briefly shows how to re-affix the lock, it has garnered much speculation from netizens as to its intentions. Many suggest that its intentions are likely for irate oBike users to re-claim their deposits from the company.
The video, shared on Facebook page The Bastard Movement has received almost 143,000 views, 2400 shares and almost 300 reactions.
Breaking the locks on these oBikes likely constitute tampering and destruction of property, even if oBike owes users the deposit they originally paid.
The Consumers Association of Singapore (CASE) has said that claims by consumers will not be able to proceed due to a stay of proceedings on all litigation action, upon commencement of oBike's liquidation.
However, they are advised to file Proofs of Debt with the appointed liquidator, and upon liquidation, oBike's assets will first be distributed to creditors and contributors such as banks and shareholders.
Facebook page got in on the action and said, "Because Kor Kor Lup Cheong and Abang Ahmad is kind, here's a video on how to dismantle the locking mechanism on oBike.
Contrary to popular belief, oBike does not physically have a GPS system in-built. Neither does it have wifi or cellular connectivity. It depends on the user to connect it via bluetooth for the system to bring the bike 'online' on the map.
If you don't connect your phone to the bluetooth, and you keep the bike at home, no one will even know.
If anyone says this is wrong, tell that someone to pay you $50 deposit first before they can come talk. And after they finish talking, don't return the money.
PS: Business idea –
Dismantle lock. Repaint the bike. Export to Africa."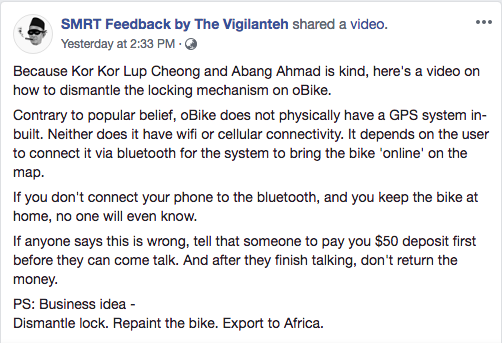 They also said:
While many netizens have been angry about the lack of refund on their S$49 deposits, they do comment that breaking of these locks are criminal in nature.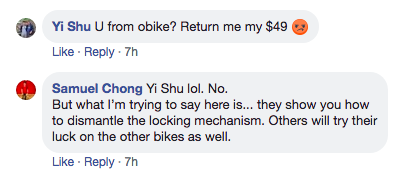 ---
obbana@theindependent.sg
Follow us on Social Media
Send in your scoops to news@theindependent.sg