In America, two of the most popular artists right now are Shawn Mendes and Camila Cabello. The duo has successful music careers and in the few times they collaborated on a song together; the song topped the Billboard charts.
Not only are they great artists but Mendes and Cabello also have been best of friends for a long time. When they partnered up on the song 'I Know What You Did Last Summer', their fans wished that the duo were dating.
The two have remained secretive about romantic feelings for one another but now they can't keep their relationship a secret.
Fans are wondering how long have the two of them known each other, as well as where and how, did Shawn Mendes and Camila Cabello meet.
Cabello met Mendes while she was still in the girl group Fifth Harmony and they were touring together in 2014 on Austin Mahone's tour.
Cabello and Mendes remember their first meeting with V Magazine.
She said Mendes was very shy during their first few meetings and Mendes said he thought Cabello was crazy.
"I remember I wanted to hang out with you, but you were always on the tour bus, just learning guitar," Cabello had said to Mendes.
The Treat You Better singer confirmed that he had never talked to anybody on the entire tour except for Cabello. She was the only one that was willing to take the time to try to get to know him better.
"I thought you were out of your mind," Mendes told Cabello. "I'd be on my bus where no one could see me. I'd be looking through the window and I'd see you, like flying around on a scooter and jumping and doing cartwheels. I'd be like, 'She's insane.' Close the window and go to sleep."
Rumours swirled around for years that the two were dating especially when they performed together.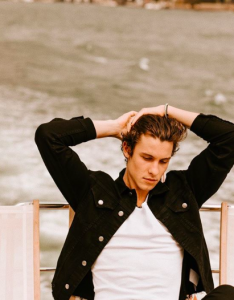 Each song they sang highlighted their level of chemistry. But the duo still said they were just having a platonic relationship.
On the Fourth of July weekend this year, Camello and Mendes were spotted showing serious PDA.
When they can no longer deny the rumours, Mendes admitted they are dating and that they have been an official couple since 4 July this year.
According to ET as reported by Cheat Sheet the couple are happily together and a source said that their relationship began as a 'summer fling' but now they ended up falling in love.
Mendes and Cabello have been spotted wearing a black bracelet, which is a Bond Touch bracelet. When one of them misses the other, they just touch the bracelet and the other bracelet will light up.