National broadsheet The Straits Times covered Emeritus Senior Minister Goh Chok Tong's recent remarks that current ministerial salaries are not enough, in an article yesterday.
Responding to a 70-year-old Singaporean's question over whether the Government would consider slashing ministerial pay by 10 per cent to fund an elderly pension scheme, the former Prime Minister had said:
"Had you suggested to up GST by 2 per cent and give them the pension, I would have applauded you. Seriously. Because you are then taxing the whole society to support older ones. But you did not. You said cut from defence, 1 per cent is enough. And on top of that, you said cut Ministers' salaries. That is very populist. I am telling you the Ministers are not paid enough, and down the road, we are going to get a problem with getting people to join the government, because civil servants now earn more than Ministers. Are you aware of that?

"And where do we get our future office holders from? From the private sector? I have tried for the last election. Two of them, earning $5 million per month, $10 million per month (sic – ESM meant per year). To be a Minister for $1 million? No, no, my family is not happy with (unclear). Those approached say money is not the issue. But if you earn $5 million, $10 million, and you pay at least $1 million, many people would come, but not from the private sector. But maybe some you can get."
The ESM then brought up the case of PAP parliamentarian Edwin Tong, a lawyer who contested Marine Parade GRC along with Goh's team in the last two elections:
"Edwin Tong, he is a Senior Counsel, he earns more than $2 million. PM asked him to be a Minister of State – one quarter (salary). He came to see me. He said, at this stage of his life, he has got a house, he has got a mother-in-law to support, a father-in-law to support, his own parents and so on, what should he do? So I asked him, Edwin, what were you in politics for? (He said) Here to serve. So I said you've got to serve, well, you know between $2 million and perhaps half a million, later on you hopefully become a full Minister, $1 million, you have to decide which is more important. So Edwin told me his job in politics is to serve. He said yes, I will take on, and he felt very strongly that he could do the job. But now we dare not pay Ministers a good wage.

"To anyone of us here, $1 million is a lot of money. So where do you want to get your Ministers from? From people who earn only $500,000 a year, whose capacity is $500,000 a year? So (when) I look for Ministers, anybody who wants to be paid more than half a million, I won't take him. You are going to end up with very very mediocre people, who can't even earn a million dollars outside to be our Minister. Think about that. Is it good for you, or is it worse for us in the end?"
Covering ESM Goh's remarks about ministerial pay, The Straits Times reported, "Mr Tong previously earned more than $2 million a year as senior counsel and now makes about $500,000, Mr Goh said."
On Facebook, the publication reiterated: "Mr Tong previously earned more than $2 million a year as senior counsel and now makes about $500,000."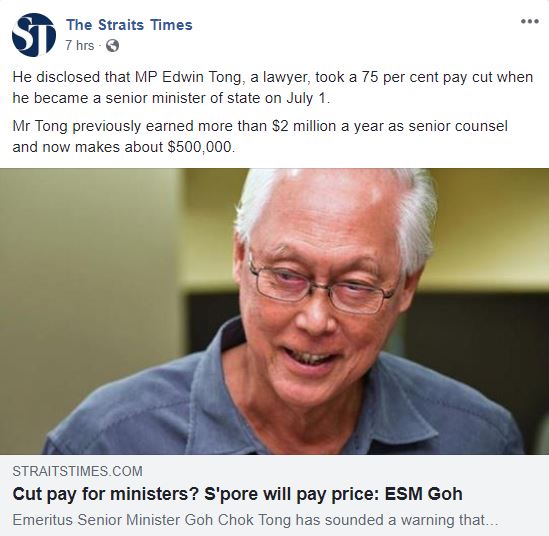 The assertion that Tong "now makes" half a million as a politician is false. In the last cabinet reshuffle, Tong was made Senior Minister of State – a post that pays $935,000 a year, according to a 2017 review of salaries for office-holders that was published last December.
Tong joined politics in 2011, in what is called a watershed General Election that saw the ruling party lose an entire GRC to the opposition. During the election, ministerial pay was a hot button issue and the Government convened an independent committee to review the salaries of office-holders in the aftermath of the election.
The Government subsequently accepted the panel's recommendation that ministerial pay be cut across the board. The pay cut slashed the starting salary of entry-level ministers, such as Tong at the time, by more than a third to the current $935,000.
In 2017, a new committee formed by PM Lee to review ministerial salaries recommended that political salaries be adjusted to reflect "annual benchmark movements," given a 9 per cent rise in benchmark salaries.
Deputy Prime Minister Teo Chee Hean said this year that ministerial pay will remain the same for now and will be reviewed again in five years: "… since the scheme remains valid and the economy is still in transition, we will not change anything now and will maintain the current salary structure and level. We will review the matter again after five years or when it becomes necessary."
https://theindependent.sg.sg/singapore-prime-ministers-annual-salary-jumps-from-42000-to-2-2-million-within-50-years/Follow us on Social Media
Send in your scoops to news@theindependent.sg