Super Junior's Shindong is going through a diet and weight loss program, the 'Juvis Diet'.
The program revealed that Shindon has tried several fad diets in the past. However, there were varying results from each diet where Shindong faced the yo-yo effect – gaining back his weight after a period.
Shindong's current weight is now 116kg. The singer is facing severe health issues such as high blood pressure and hyperlipidemia due to a decrease in exercise and outdoor activity patterns.
Shindong plans to cut down his weight to his goal of 75kg through his partnership with 'Juvis Diet'. Composer Yoo Jae Hwan lost 32 kg through the 'Juvis Diet' program and recovered from health problems which inspired Shindong to follow the program.
Besides Yoo Jae Hwan, others like Kangnam also lost 30kg for his wedding and NRG's Noh Yoo Min also benefited from the program.
34-year-old Shindong was born Sept, 28, 1985, and he is a South Korean singer, rapper, emcee and radio personality.
He is a member of K-pop boy band Super Junior and its subgroups Super Junior-T and Super Junior-H.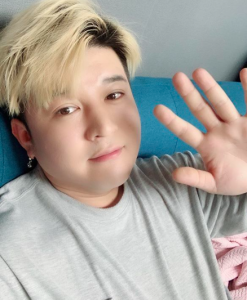 Shin Dong was born in Suwon, Gyeonggi-do and he has a younger sister named Ahn Da Young.
He won the grand prize for the 2002 Goyangsi Youth Dance contest.
The following year, he joined the contest again and won gold.
Shindong also competed in the Mnet Epi Contest in 2004 where he won both the gold prize and popularity award.
He contested in the SM Best Youth Contest in 2005, winning first place for Best Comedian and the grand prize.
Shindong subsequently signed up with SM Entertainment, learning how to dance better.
He was then put in a group called Super Junior, as part of its first-generation version, Super Junior 05.
Instead of using his birth name which sounded similar to bandmate Donghae, Shindong used the name Shindong, derived from his surname and the first character of his birth name which means 'child prodigy'.