A number of stray animals in South Korea is in luck after South Korean actress Goo Hye-sun said she will be donating one tonne (1,000kg) of food to strays.
The former wife of actor Ahn Jae-hyun shared the good news through her official Instagram account.
She attached a photo of herself holding a street cat in the social media post.
So far, the post got over 80,000 likes with users giving her the heart emoji.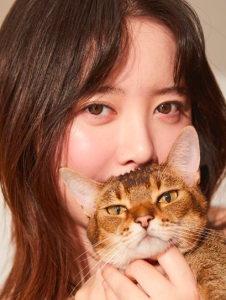 Goo has helped strays before this.
Malay Mail said Goo had donated over 20 million won to organisations handling pets.
The money came from proceeds of Jinsan Gallery – Goo Hye Sun Preview art exhibition.
In other news, the actress said she has now given up on ex-husband Ahn Jae-hyun, revealing that she wants to go back to the entertainment scene after months of airing dirty linen about Ahn.
Alkpop said the actress has no more feelings for Ahn.
She said she was disappointed with Ahn and had started to feel differently since March.
Goo said one day, Ahn told her that he had lost all feelings for her. After that, news spread that they were divorcing.
In their three years of marriage, the couple would argue but not to the point of splitting up.
Ahn then said he wanted to practise his acting skills and rented a place elsewhere after he said he had lost feelings for Goo.
He also cut all communications with her and before she knew it, they were separated.
Goo said the couple barely fought during the marriage.
The only time that Goo had heard from Ahn recently was when she was admitted to the hospital.
Ahn sent her a text saying he will go back to their house to get his winter clothes.