Singapore – On February 1, 2019 (Friday), Singapore Post (SingPost) released a statement saying that its third-quarter net profit increased almost 16% compared to last year which was mainly due to the selling of its stake in a Chinese company.
SingPost CEO, Paul Coutts, said that "It has been an exceptional quarter, with strong performance across the group, other than the US which remains challenging." The national postal agency said that net profit for the last quarter of 2018 was S$50.2 million which was 15.6% higher than the last quarter of 2017.
SingPost has sold its shares in logistics firm 4PX to a current shareholder of the China-based company, hence the increase in profit. With this occurrence set aside, SingPost's net profit totaled S$32.9 million, which was 7.5% lower compared to last year.
As for its profit on operating activities from property, the company experienced an 18.2% increase due to rental income from its shopping mall, SingPost Centre that had a high occupancy rate of 99% at the end of 2018 compared to 86% the previous year.
SingPost's US businesses
Meanwhile, SingPost's US e-commerce businesses have incurred losses with profit on operating activities dropping 8.5% to S$42.2 million. Regardless of the festive season and increased shopping activities, costs rose significantly alongside the increased volume.
Another cause for concern in the e-commerce operating environment in the US are the increasing competition and customer bankruptcies. SingPost forecasts more losses this financial year in its US businesses.
Netizens doubtful
With all the lapses recently brought into light in relation to SingPost's service, netizens are dubious to the "exceptional quarter" of the postal agency.
It was only a few days ago when residents in Ang Amo Kio found their undelivered mail and parcels dumped in a trash bin, to which an investigation was prompted by the Info-communications Media Development Authority (IMDA).
Read more here:
https://theindependent.sg.sg/another-singpost-blunder-unopened-letters-dumped-in-trash-at-ang-mo-kio/
Albert Weng pinpointed the rise in profit came from thrown packages that make sender sending their packages again and again. This was mentioned by Reuben Chew as well.


Others are also connecting the gain happening at the expense of overworked SingPost staff.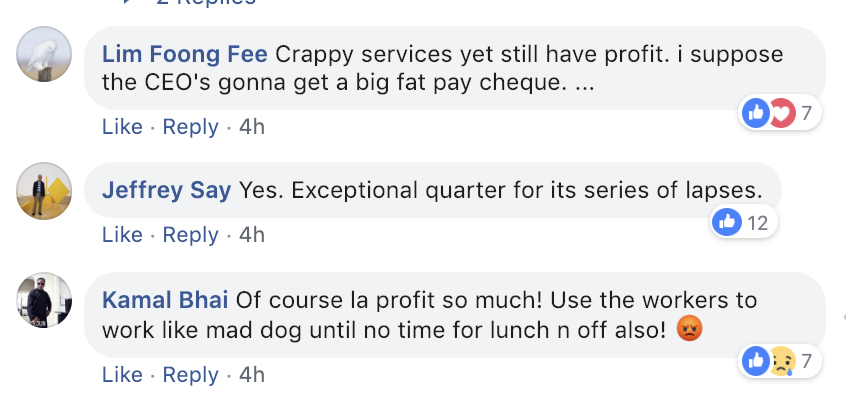 Kenny Chong placed it simply with his comment below:

Send in your scoops to news@theindependent.sg