London-based Singaporean Jules K. Yim was rather taken-aback when he came across a recipe for Hainanese chicken rice by an actress and chef that was indeed a dish consisting of chicken and rice, but nothing like the Hainanese chicken rice known in Singapore.
In a Facebook post on Sunday, he posted a picture of the newspaper and said, "This is not Hainanese chicken rice. Ex-actress with no palate to speak of please stay well away from the food of my people and stick to your gloopy mush".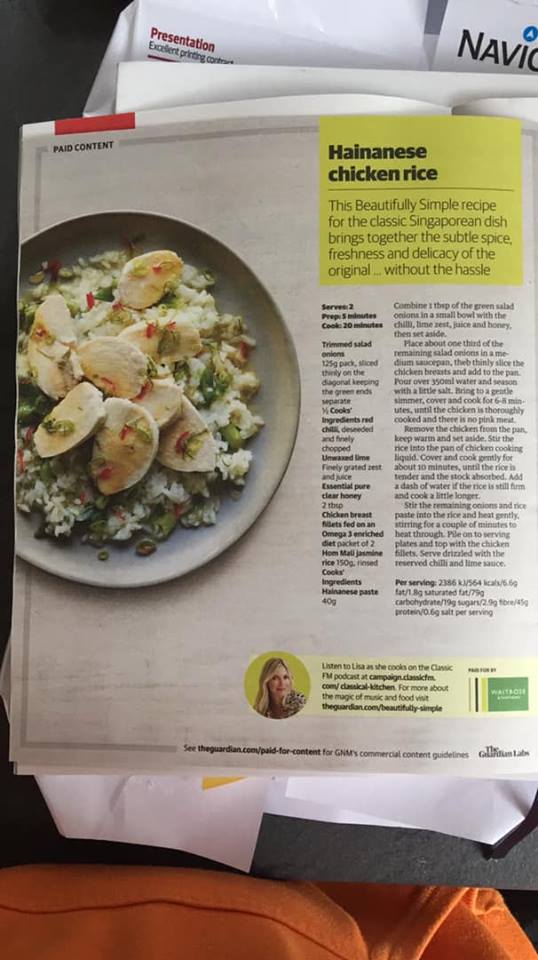 British newspaper The Guardian published the recipe titled, "Waitrose & Partners' Beautifully Simple" recipe for Hainanese chicken rice.
The recipe was featured in a podcast, and cooked by Lisa Faulkner, an actor and "celebrity chef" who won Masterchef Celebrity in 2010
Many netizens who commented on the post were offended that the dish was classified as the Hainanese variation but it had lime and honey in the recipe that went into a sauce to be drizzled on top of the chicken and rice.
Others also said that the dish lacked ingredients typically found in chicken rice such as sesame oil, garlic and ginger.
This is not the first time food has caused strife as earlier in the year, when Malaysian-born Zaleha Kadir Olpin made Nasi Lemak with Chicken Rendang for popular UK cooking competition Masterchef, she intended to portray feelings of nostalgia through her "childhood favourite" dish.
However, judge Gregg Wallace dashed all her hopes and critiqued saying, "the chicken skin isn't crispy. It can't be eaten and all the sauce is on the skin so I can't eat it".
His comment sparked outrage in many Malaysians, who took to social media to express their distaste.
https://theindependent.sg.sg/masterchef-the-malaysian-pm-and-crispy-chicken-rendang/
Upon seeing Jules' Facebook post, many also commented on how unauthentic the dish was made out to be.






In a few tweets, Lisa responded to those who had asked her about the chicken rice, and she said, "It is not my recipe. It was cooked for me and I ate it. I do not pretend to be a chef. I didn't make this recipe up. I am just a home cook who did an interview and are a dish that was cooked for me. Please stop."
It is not my recipe. It was cooked for me and I ate it. I do not pretend to be a chef. I didn't make this recipe up. I am just a home cook who did an interview and are a dish that was cooked for me. Please stop.

— lisa faulkner (@lisafaulkner1) October 10, 2018
I didn't.

— lisa faulkner (@lisafaulkner1) October 9, 2018
________________________________________________________________________
obbana@theindependent.sg
Follow us on Social Media
Send in your scoops to news@theindependent.sg