After the reading of 2019's Budget by Finance Minister Heng Swee Keat on Monday, Feb 18, Singaporeans seem to be divided on some of the new schemes.
When Second Minister for Finance and Education Indranee Rajah spoke on radio station 938Now's Talkback show about the automation of businesses, many took issue with her statement and called her out on social media.
As reported on ChannelNewsAsia, a radio caller had pointed out that lowering the foreign worker quota in the services sector would make it even more challenging for food and beverage outlets to "survive".
The caller also said that it is "very difficult" for such companies to find staff.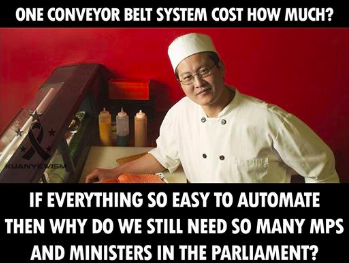 To this, Rajah pointed out that automation, such as the use of conveyor belts in sushi restaurants, can help businesses cut down on their manpower costs.
Netizens seemed to be rather tickled by her statement, with many stating that conveyor belts hardly cost as much as Ministers' salaries. Others also said in jest that Members of Parliament could be automated as well.





https://www.facebook.com/kuanyewism/photos/a.1160493877314516/2276549325708960/?type=3&theater
This is not the first time Indranee Rajah has received flak online; last year, after a Facebook post about how she 'disturbed' an elderly couple during a walkabout, she spoke out on her own Facebook page.
https://theindependent.sg.sg/mp-indranee-rajah-writes-back-against-private-facebook-post-that-claims-she-disturbed-senior-couple-during-tiong-bahru-lunch-walkabout/Follow us on Social Media
Send in your scoops to news@theindependent.sg