An image capturing a barrage of new taxes that will hit Singaporeans from next year has been circulating online. The image, posted on social media by Facebook user Bruce Wee, has garnered over a thousand shares since it was shared yesterday.
Featuring news headlines, the image reminds Singaporeans that the Government will impose a carbon tax from 2019, start taxing digital services from 2020, and raise the Goods and Services Tax (GST) to 9 per cent sometime between 2021 and 2025.
The authorities are also considering imposing a sugar tax, charging consumers an extra fee for sugary drinks, as the Government focuses on tackling diabetes among locals.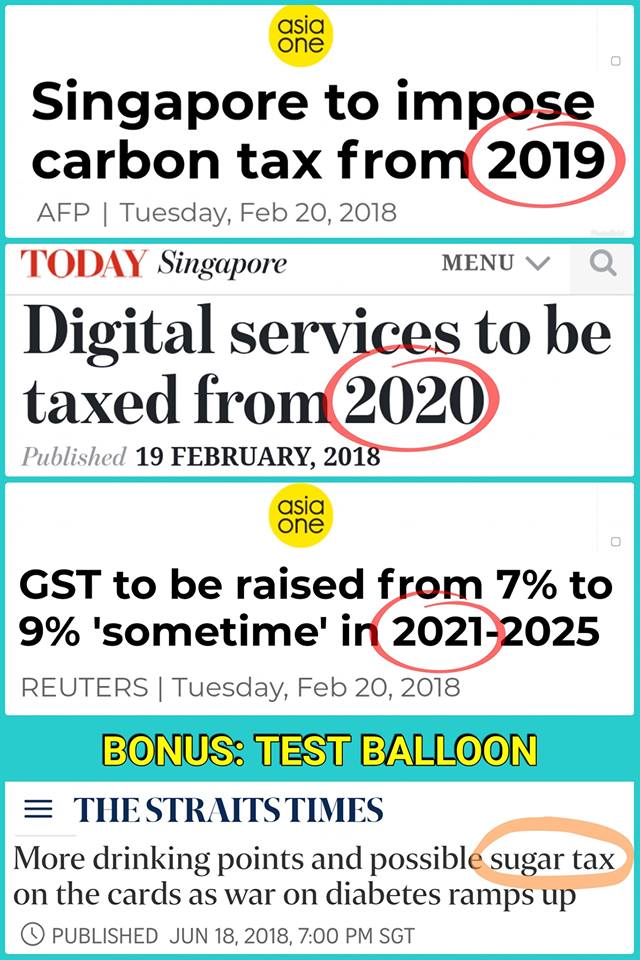 The new slew of taxes come on top of the ongoing price surge that has frustrated Singaporeans. Even as it appears that wages are stagnating, Singaporeans now have to contend with a hefty 30 per cent water price hike that went into effect from 2017 and a collective 16.8 per cent electricity tariffs increase over the past year.
Ruling party politicians, however, have urged Singaporeans to see the rising cost of living as a good thing.
When asked about how the cost of living could be managed at a recent forum, Transport Minister Khaw Boon Wan offered that the rising cost of living are "two sides of the same coin" since higher costs paid to vendors and service providers will go towards their wages.
Citing hawkers and taxi drivers who would want to see their income growing and that this cost of living will help wages for service providers grow, Khaw said: "In fact, high cost of living is a problem of success. High cost of living means things have improved… For as long as Singapore succeeds, cost of living inevitably will rise, (and) it should rise."
Fellow Sembawang GRC MP Vikram Nair then piped up and advised that Singaporeans should see the rising costs of living as "paying someone else a higher wage", which is "actually a good thing".
https://theindependent.sg.sg/increased-cost-of-living-is-actually-a-good-thing-and-a-problem-of-success-pap-mps/Follow us on Social Media
Send in your scoops to news@theindependent.sg