Many Singaporeans reacted to vlogger Nuseir Yassin's, also known as Nas, video of Singapore, which praised the country to the high heaven to the extent of calling the country "Almost Perfect" for solving several problems that many countries face. 
But netizen Carrine Low had perhaps the best reaction of all, making a parody of the Nas Daily video that highlighted the nation's problems in the same highly energetic and enthusiastic way that Nas does.
The result is that the startlingly effective video struck a chord with Singaporeans, and has been viewed more than 139,000 times and also been widely commented on. Nas himself has left a comment about the video which came out on the Facebook page Memeaporean on September 23.
Nas visited Singapore in August and produced a series of videos for his highly popular blog, "Nas Daily," which has more than 8 million followers worldwide. He highlights the good about every place he visits around the world, but his videos about Singapore have been so full of praise and admiration that he has been accused of being sponsored by the government for the glowing content on his vlogs.
The fact that he featured Singaporean Prime Minister Lee Hsien Loong prominently both in his "Almost Perfect" video and on his Instagram account has drawn raised eyebrows from many people.
In a five-minute video talking about Singapore as the "almost perfect" country, Nas praises the nation for having solved common problems such as racism, pollution and traffic, and features a cameo by Prime Minister Lee. He says, "I love Singapore, because there is a lot we can learn from the country. If they can solve so many problems in 53 years, then why can't we?"
In response, Ms. Low created a video called "The Almost Perfect People," which was posted on Memeaporean with the caption: "THE ALMOST PERFECT PEOPLE THO ?? [NAS DAILY PARODY]
"Nas Daily, SORRY YOU FOUND OUT SINGAPOREANS ARE NASTY. WE ARE INSECURE AND WAY WORSE/UNDERDEVELOPED THAN THE BUBBLE BABIES YOU THINK WE ARE THAT'S WHY WE GOT ANGRY WHEN YOU SAID WE WERE PERFECT :') haha so embarrassing to be outed as spoilt pls don't tell China"
It starts innocently enough with footage of host Carrine Low enjoying being driven about in a car, but two seconds in she begins to talk about Singaporeans, and how they do not have the problems of being "ENTITLED. NARROW MINDED. ONE-DIMENSIONAL. CRYBABY." Or so the viewer thinks at first look.
It soon becomes apparent that Ms. Low's video is no ordinary parody but a biting and sarcastic social commentary on how life in Singapore is not as simple as Nas made it seem.
For example, when she says that Singaporeans are not entitled, but privileged. In fact she says that they are "privileged but entitled to nothing," because they cannot really own their homes, and live under the threat of state repression.
Or when she says that Singaporeans are not one-dimensional but multidimensional, because they can see that molestation as "love"—showing a woman groped by a man, or violence as "passion"—showing the same woman struck by a man.
However, only Singaporeans can be expected to understand all of Ms. Low's references, as she features local viral clips and notorious people in the video.
But even to non-Singaporeans, Ms. Low's message is clear. While the world may think that Singapore is "almost perfect," there are many other problems under the surface.
Nas, however, seemed to take Ms. Low's video at face value, praised her for her efforts and even invited her to join the Nas Daily Team. Though he admitted that he found the script to be "a bit weird," and that he "had a hard time following the middle."

A helpful netizen set him straight.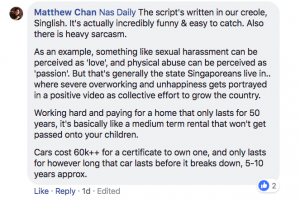 Another commenter expressed his puzzlement that at the end of the video Ms. Low was in the men's restroom.

A netizen explained why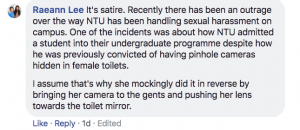 Many netizens responded positively to Ms. Low's video, seeming to agree with her views.
Follow us on Social Media
Send in your scoops to news@theindependent.sg