Less than two weeks since the start of his new role, new SMRT group chief executive Neo Kian Hong told reporters that he sold his car and opted to take train to work to "understand the issues" that are on-going.
He also added that his family had moved to a new home near Shunfu "just to make sure I can take the trains to work and it's easier for me and my family can support me in doing this."
Mr Neo was at SMRT's Bishan depot with Transport Minister Khaw Boon Wan and other senior officials to view new trains that would be added to the North South and East West rail lines (NSEWL) when he spoke to reporters.
SMRT's CEO also added that the goals he set for the rail provider were: providing reliability, creating sustainability and ensuring continuous improvement.
In order to observe the way trains run, Mr Neo added that he needed to be on the ground. He said, "I sold my car earlier on but I didn't want to buy a new car, because it is more useful for me to take the MRT to understand the issues and take our company's assets like our taxis and buses".
However, many Singaporeans expressed scepticism, alleging that he may have sold his personal car, but he probably still had company cars and a lavish company house.




But then again, there were also those who commended Mr Neo for his efforts, adding that no matter what his actions were, there would always be those critical of him.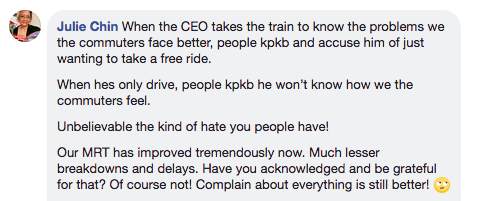 While Mr Neo's true intentions may never be known, his step-forward to get down on the ground should be commended. As SMRT's group chief executive, his want to find out the faults of the company from a commuter's perspective is a move that could serve to help all those utilising trains as a mode of transport.
________________________________________________________________________
obbana@theindependent.sg
Follow us on Social Media
Send in your scoops to news@theindependent.sg