At a Parliamentary session on Monday, November 19, Senior Minister of State for the Environment and Water Resources Dr Amy Khor said that the rental cost borne by hawkers only indirectly affects their overall costs, and therefore does not directly affect food prices.
She added that according to a study done in 2014 by the Ministry of Environment and Water Resources (MEWR) and the Ministry of Trade and Industry (MTI), rental only took up 12 per cent of hawkers' costs, with 76 per cent going to manpower and the cost of raw materials.
Dr Khor then said, "Hence, stall rentals do not directly affect food prices".
She said that hawkers "generally price food according to what the market can bear", and food prices are influenced by competition in the vicinity and the demographic profile of customers.
https://www.facebook.com/allsgstuff/photos/a.1993158977491488/2816455675161810/?type=3&theater
Many Singaporeans we angered by Dr Khor's comments, saying that she'd lost touch with the sentiment on the ground. Others also insisted that an increase in rental would very likely lead to an increase in the price of hawker food, and they cited examples of 'kopi' at hawker centres.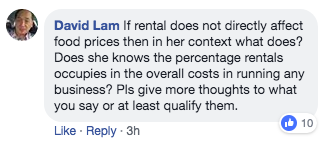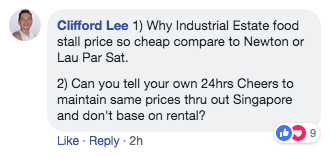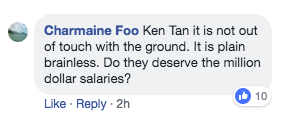 ________________________________________________________________________
obbana@theindependent.sg
Follow us on Social Media
Send in your scoops to news@theindependent.sg 
No tags for this post.