Singapore—Flight delays are not uncommon these days, and travelers should try to exercise some degree of patience, particularly when safety is at stake.
One netizen however, missed his son's award ceremony due to a Singapore Airlines flight that was delayed by 17 hours, and took to the national carrier's Facebook page to complain about it, as well as to ask for a full refund and an apology.
Singapore Airlines did apologize, but not before netizens sharply reminded the man, who goes by the name Deep Roy on Facebook, that the airline was right in prioritizing safety concerns.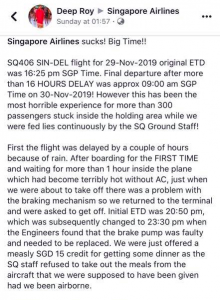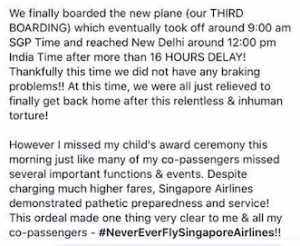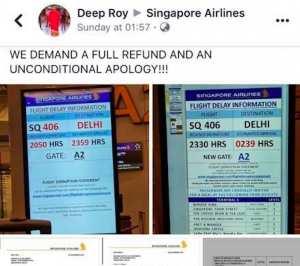 The flight was scheduled to leave Singapore on Friday at 4:25 pm.
First, the takeoff was delayed due to poor weather conditions.
But passengers boarded after a while, and shortly after 6pm, the plane was ready to depart. However, a technical issue arose with the brake system of the flight, and the plane went back to the gate for a safety check.
At this point, the passengers deplaned, engineers checked the aircraft and two parts were replaced.
The passengers re-boarded the plane and it got ready for takeoff again. By this time it was already close to 11:30 pm.  However, according to SIA, the fault indication display came up again, which prompted another inspection.
So the passengers returned to the airport.
Shortly past one o'clock that morning, SIA decided to simply use another plane for the flight, but unfortunately, the plane would only be available at 7:30 that morning.
And when the plane was finally ready to depart, some passengers felt ill and chose to disembark, and another delay ensued as the passengers and their baggage had to be let off of the plane.
The flight finally took off at 9:23am, which is almost 17 hours after its original schedule. It landed in New Delhi at 12:18pm.
On Facebook, Mr Roy called the delay a "horrible experience" and seem to particularly mind not knowing the full story of what was going on, and felt that he was being "fed lies continuously" by the airline staff.
He wrote, "Despite charging much higher fares, Singapore Airlines demonstrated pathetic preparedness and service."
Mr Roy added that the airline served sandwiches and beverages only after "continuous yelling and protests."
Singapore Airlines told TODAY that it gave out not only meal vouchers to the affected passengers, but also food and drinks, eye shades, amenity kits, blankets, sleeping bags and neck pillows.
While the national carrier has been gracious about the ordeal, Mr Roy's fellow netizens have not been so kind. A commenter named Desmond Chan wrote, "When you fly with one of the best in the industry, their plane checks are rigorous, even a tiny bit which can cause safety issue is looked in depth, analyzed and repaired with precision. The delay is to ensure safety, so don't complain if your flight is delayed unless you think the life of all the passengers is not important."
Kailyn Song echoed this, writing, "Well, safety always comes first. You choose the following option: Flight delay or Flight crash? Count your blessings that you are still alive."
Many others had the same sentiments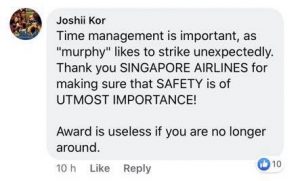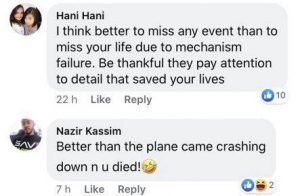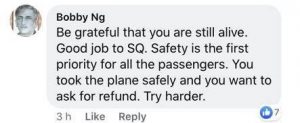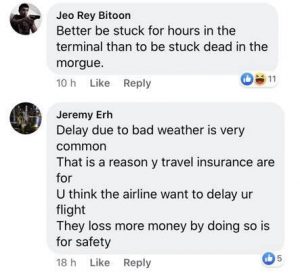 -/TISG
Read related: Move over, Singapore Girl? Singapore Airlines bumped off number one spot as best airline by Qatar Airways
Move over, Singapore Girl? Singapore Airlines bumped off number one spot as best airline by Qatar Airways
Send in your scoops to news@theindependent.sg