A 23-year old woman has been arrested for reportedly selling fake tickets to a JJ Lin concert and the National Day Parade.  More than a dozen people have been victimized by the woman's scams.
According to the police, the woman contacted her victims in July and August of this year. In exchange for tickets, they transferred funds to a seller on Carousel, an online marketplace. After the money was transferred, the woman disappeared and could no longer be contacted online.
There have been 16 police reports made against the woman.
Her identity was confirmed by the Bedok Police Division and she was arrested on August 15, Wednesday. She faces charges of cheating today.
It is not yet known whether this woman is also responsible for scamming other netizens who thought they bought tickets from her to JJ Lin's concert at the Singapore Indoor Stadium. Instead, they received blank pieces of paper.
A netizen who goes by the name Christine Xtine on Facebook posted about her near-miss with the scammer, who nearly got $700 from her for a pair of tickets. Christine Xtine became uncomfortable with sending a large amount of money before receiving the tickets, and thus did not proceed with the payment. This turned out to be a good thing, as the only thing she received were blank pieces of paper.
Christine Xtine filed a police report, and after putting her post about the experience up, other netizens reached out to her and told her they had been victimized in the same way.
https://www.facebook.com/xtinechao/posts/10160533175240648?__xts__[0]=68.ARARR_KVJACIwO6xU7LNJlr6nb19iGwHQnApZOssgDz-iPxZaGsBzTOxzPEDp3Ijof2jZqH5TBy804D1kUo85b60h5TRMam4yNUGxux1EIkCZxElxgD5FkTheLFA5F3YYvVS89drruqJ&__tn__=-R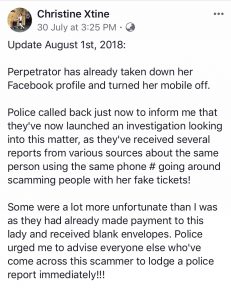 This kind of scam still seems to be ongoing. Another netizen named Yip Lai Meng reported on Facebook that someone was using her name to sell fake JJ Lin concert tickets.
https://www.facebook.com/laimeng.yip.3/posts/10156208103022034?__xts__[0]=68.ARCMqBnW_a3lOyS4J30LgQlhedJSXWbh3IftLMXVjgDKz7FAKRwwUY_vYtZqQbfAb3rdY4Pt13Itadv_xe0AJai76fcAUB6il_jNAdMJRpqPpycAYAt9iFCzhT-U8CKHA0ac_jyp3TTs&__tn__=-R
Follow us on Social Media
Send in your scoops to news@theindependent.sg 
No tags for this post.