Johoreans are about to be blessed with their own dream houses through the royal family's initiative to distribute their own wealth to the less fortunate. His Royal Highness, the Crown Prince of Johor announced "Rumah Impian Bangsa Johor," an imitative to build affordable housing for the people in the district of Mersing, Johor, on his Facebook page on Sunday, October 21.
As a project started by Sultan Ibrahim's foundation, its aim is to ease "the burden of the people," according to the post. The Sultan will be having houses built according to his specifications, as well as by appointing a project manager and contractor. The royal family will not be drawing a profit from it.
Additionally, there are plans for other amenities within the community.
Families who will avail of the housing project will be selected under a strict process, and the selection committee will include members of the Sultan Ibrahim foundation, as well as the secretary of state.
Here are the following criteria for eligibility: Applicants must be residents of Johor whose income is not greater than Rm 5,000. They cannot be the firstborn or an only child. They should not have been previous property owners.
Furthermore, the Sultan wishes to distribute the properties among Malays, Chinese and Indian citizens, desiring to "build a social spirit."
Prices for the units, which will be multi-storied and have three bedrooms and two bathrooms, will range from Rm 70,000 (S$23,186) to Rm 200,000 (S$ 66,232.95).
https://www.facebook.com/hrhcrownprinceofjohor/posts/2110873725896713?__tn__=C-R
Netizens praised the royal family for their generosity, thankful that they are more concerned with building houses than the "crooked bridge".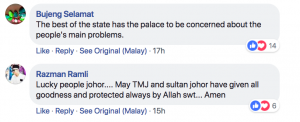 Others lamented that they did not qualify for eligibility, especially those who had been born as the eldest child in the family.




In less than 24 hours, the post received more than 2,500 comments, and was shared almost 5,200 times,
Follow us on Social Media
Send in your scoops to news@theindependent.sg