Datin Seri Rosmah Mansor is allegedly the gatekeeper who gave Jho Low access to Malaysia's highest echelons of power. This allegation was made by Tom Wright, the journalist who co-wrote "Billion Dollar Whale," the book exposing Low's involvement in the 1Malaysia Development Berhad (1MDB) scandal, in a radio interview on Tuesday, September 25.
On the same day, hundreds of people lined up in bookstores in Malaysia to buy the book. Wright, along with co-author Bradley Hope, are in Malaysia to promote Billion Dollar Whale. Both men have are journalists with the Wall Street Journal.
According to Wright, Low Taek Jho met Rosmah though her son, Riza Aziz. Aziz is a producer in Hollywood and is Rosmah's son from her previous marriage.
It was Low's relationship with Rosmah, Wright further alleged, that opened the door for Loh to meet former Prime Minister Najib Razak and gain his confidence.
Wright also said that Rosmah enjoyed advantages from the friendship, since she received cash, jewelry and other gifts in return. "Rosmah is important I believe because she helps Jho Low to get in the centre of power in Malaysia and she benefits from this."
Apparently, Low is still continuing to broker meetings between the rich and powerful. Wright said that Low had offered to broker a meeting with current Prime Minister Mahathir Mohamad, who is now in New York at the United Nations General Assembly.
When the radio interviewer asked Wright if the controversial financier was still in communication with the government in order to obtain his release, Wright answered, "Yes, he is. He very optimistically offered to help the Malaysian government with its meetings in the US. They're ongoing now. (To arrange Dr) Mahathir's meetings on the sidelines of the United Nations General Assembly."
The former Prime Minister has been charged with more than 30 offenses related to the 1MDB scandal.
On Thursday, it was Rosmah's turn to face the music when she was asked to appear before the Malaysian Anti-Corruption Commission (MACC) to make her statement. There were rumors that Rosmah would be arrested after she made her statement, but this did not come to pass. She is expected, however, to face more than 20 criminal charges in the near future.
Low is a wanted man in Malaysia. Arrest warrants have been issued against him and his father, Tan Sri Larry Low. Both men have been with money laundering.
Netizens did not seem to be surprised at Mr. Wright's allegations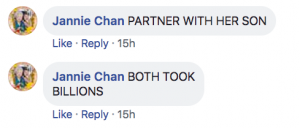 One netizen had strong words for Jho Low

Follow us on Social Media
Send in your scoops to news@theindependent.sg