A game that first gained popularity in 1996, the Resident Evil game has now been remade into "Resident Evil 2" in order to make it more realistic and fitting of modern expectations.
Owned by the Japanese video game company Capcom, the Resident Evil was a horror media franchise first created in 1996 by Shinji Mikami and Tokuro Fukiwara. It depicted a mansion overrun by zombies and incorporated elements of action, exploration and puzzle-solving amidst horrifying story lines inspired by horror and action films. It is still very popular with 88 million copies sold worldwide in January 2019.
This year, the game was rebuilt with the intention of creating a deeper narrative experience through realistic visuals and immersive audio. Changes include a new story trailer, the addition of large shoulder pads for the character Leon, a new camera system as well as the removal of fixed camera angles which was initially designed to scarify the zombies. While the design of many locations looked similar to the original game, the locations are now full of surprises for seasoned veterans and newcomers.
So far, reviews for the remake game have been mixed. With a fair share of negative comments, one player named "critical nobody" expressed clear disappointment at the remake game on Youtube. He said,"Great game,but after playing through three times,there are clear things the original did better."
Despite so, the reviews have been mostly positive. Mr Wong, a 26 year old player commented," I like the remake game a lot. The graphics are very surreal and they remind me of old times."
On youtube, another player commented," Once a masterpiece, always a masterpiece."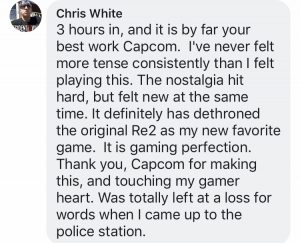 Follow us on Social Media
Send in your scoops to news@theindependent.sg