A racist "joke" about the complexions of people in the Little India and Chinatown districts in Singapore has been going viral. The Facebook post sharing the joke has accumulated over 1,700 shares since it was published on Sunday (9 June).
A screenshot of a mobile message sharing the joke, which could have really been sent between friends or manufactured online, was posted on social media by Facebook user Raditya Ghaffari.
Captioning his post "goblog" – also known as "goblok" which is a famous Malay/Indonesian slang word to define something stupid – Mr Ghaffari shared the following racist "joke" on Facebook: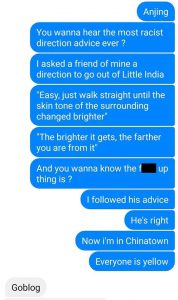 Mr Ghaffari's Facebook page suggests that he is a 24-year-old from Jakarta, Indonesia who is now living in Singapore. Mr Ghaffari had written on his Facebook profile that he likes to "regularly sh!@post". Sh!@posts refer to low quality, troll, or deliberately dumb posts.
The post making the racist joke could be one such post. The Independent has reached out to Mr Ghaffari to confirm the origin of the screenshot and will update this article once we receive a response. -/TISGFollow us on Social Media
Send in your scoops to news@theindependent.sg 
No tags for this post.