The ongoing Aljunied-Hougang Town Council (AHTC) trial involving Workers' Party (WP) parliamentarians Low Thia Khiang, Pritam Singh and Sylvia Lim has given pro-ruling party fanpage, "Fabrications About the PAP," buckets of fodder for posting severely inflammatory content.
The fanpage – which already has an axe to grind with the politicians just based on their opposition to the People's Action Party (PAP) – has been having quite an extended field day attacking the three Members of Parliament (MPs) as the AHTC trial goes on.
The fanpage, which boasts over a quarter of a million followers, went to the extent of sharing a post comparing the MPs to ex-Malaysian Prime Minister Najib Razak, who has been accused of channelling a whopping USD 700 million from the 1Malaysia Development Berhad state fund into his personal bank accounts during his tenure as head of government.
Najib was toppled at the watershed Malaysian General Election in May 2018 by the opposition coalition in an unprecedented election upset, that saw Malaysia's very first transition of power since the nation gained independence over six decades ago.
After the election, Najib was investigated for corruption and in connection with the massive 1MDB scandal. He was arrested and now faces corruption charges in court. His wife, Rosmah Mansor, was also arrested and faces money-laundering charges.
The post 'Fabrications' shared was originally published online by another Facebook page, 'SMRT Feedback by The Vigilanteh':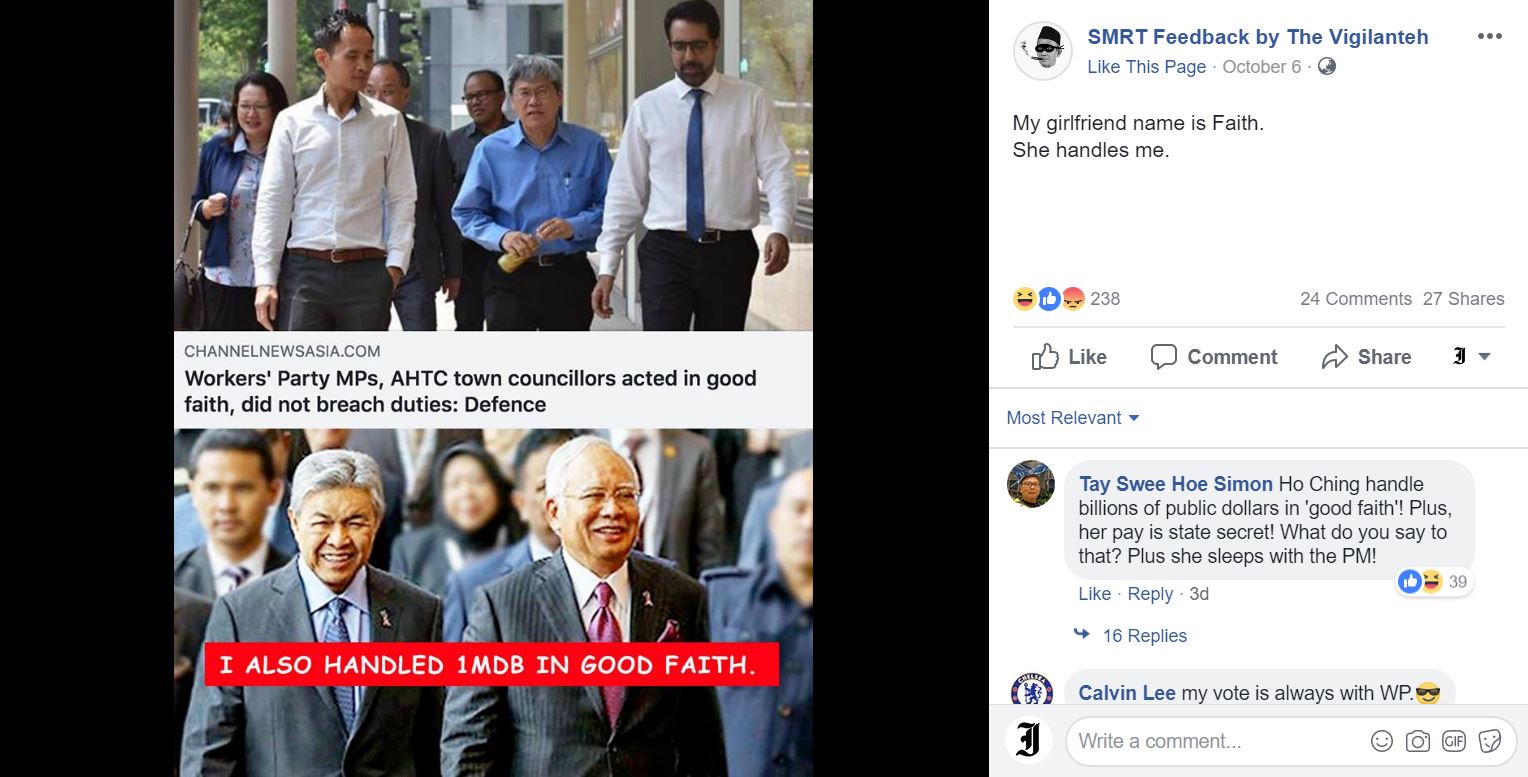 On top of comparing the three MPs to Najib by sharing the Vigilanteh's post, the fanpage also took potshots at the MPs – criticising them for smiling outside the courtroom and even calling party chairman Sylvia Lim the "mother of all misleading statements".
In the posts it published, the fanpage asserts that the WP MPs are guilty of the "improper payments" they were accused of making and were not "acting in good faith" when making the payments, without a shadow of a doubt.
The fanpage also asserted that the MPs "squeezed the residents dry" and turned a "$3 million surplus" finto a "$2 million operating deficit".
Interestingly, the page also alleges that the AHTC lawsuit itself was orchestrated by the MPs so that they can profit from potential damages arising from the lawsuit.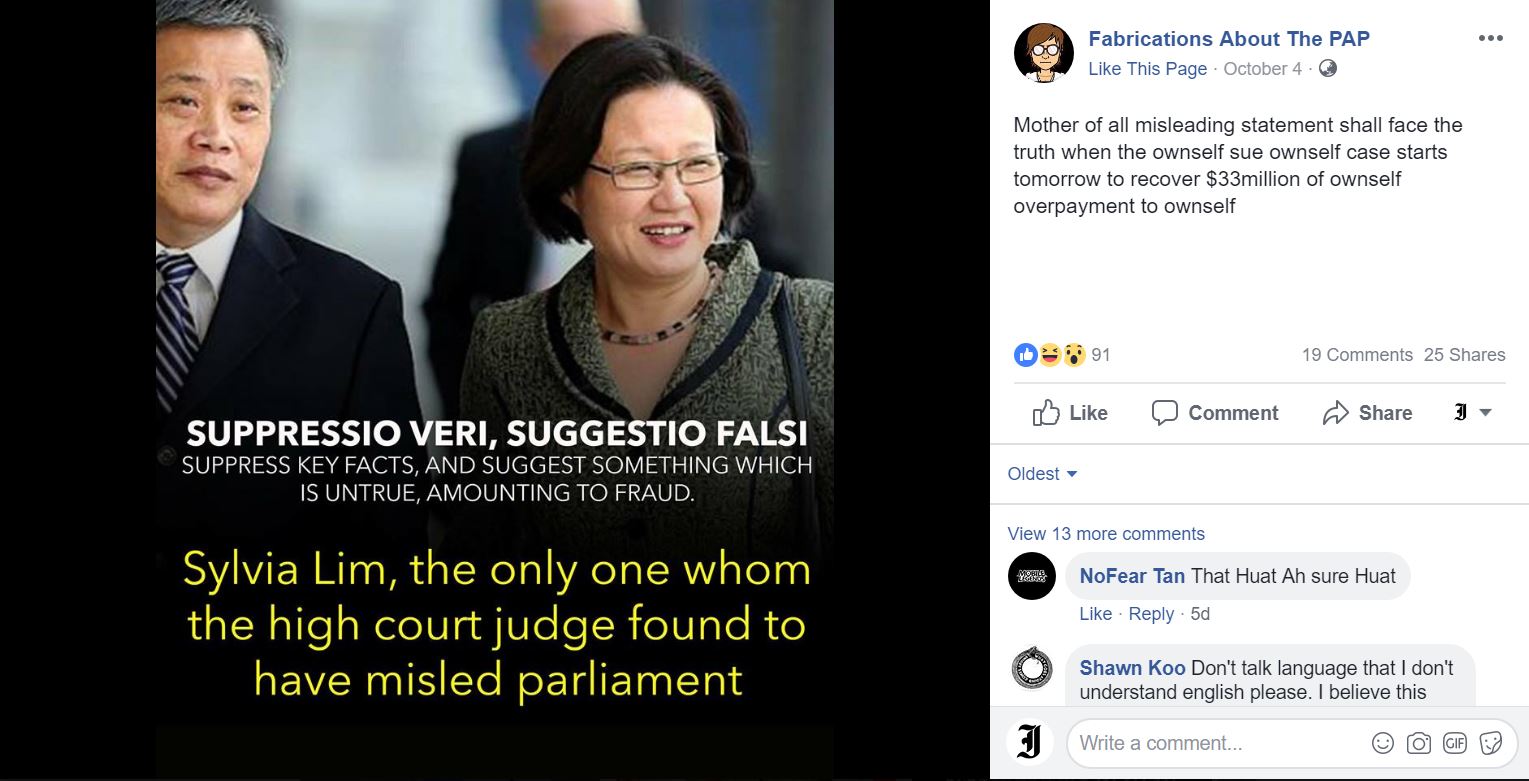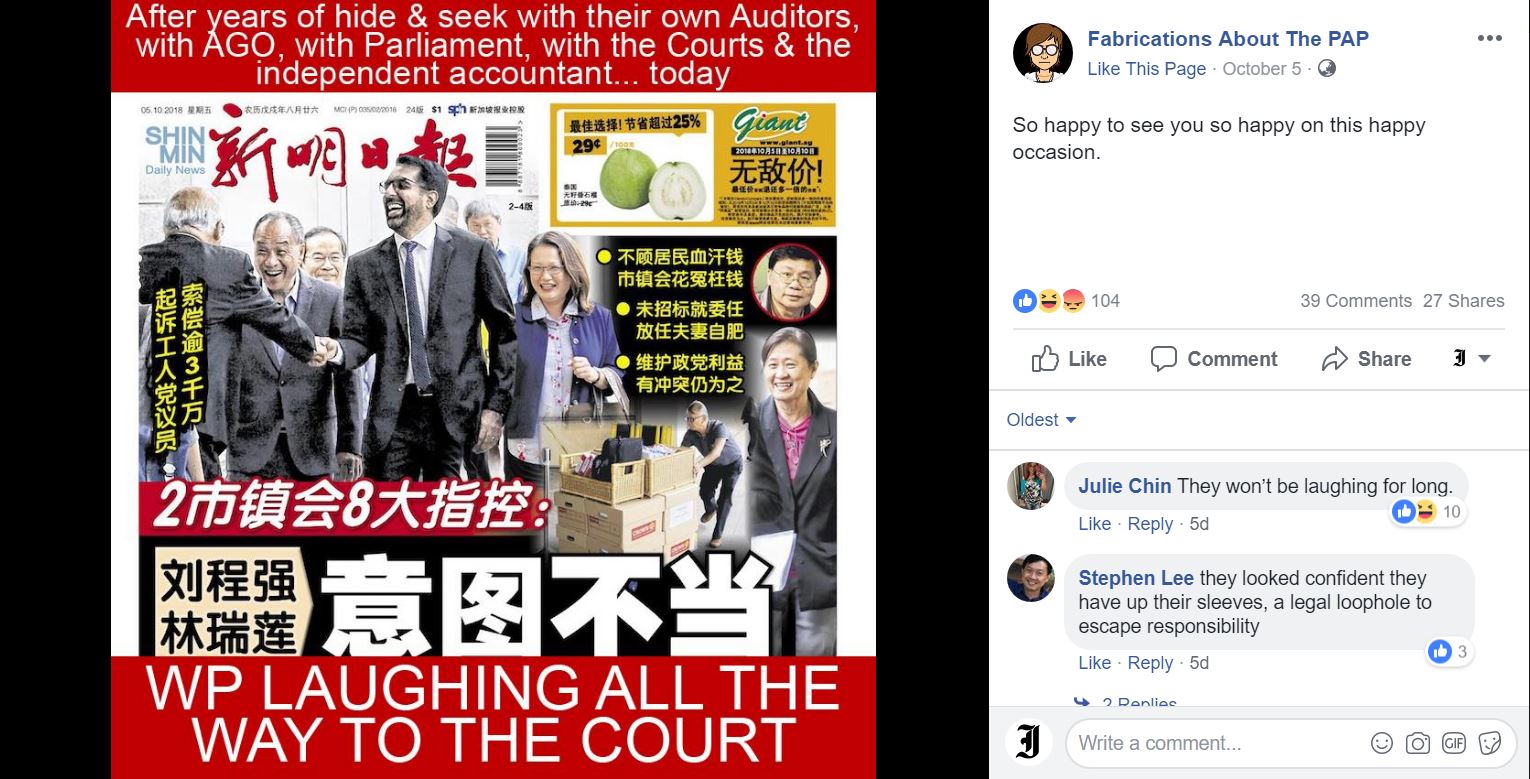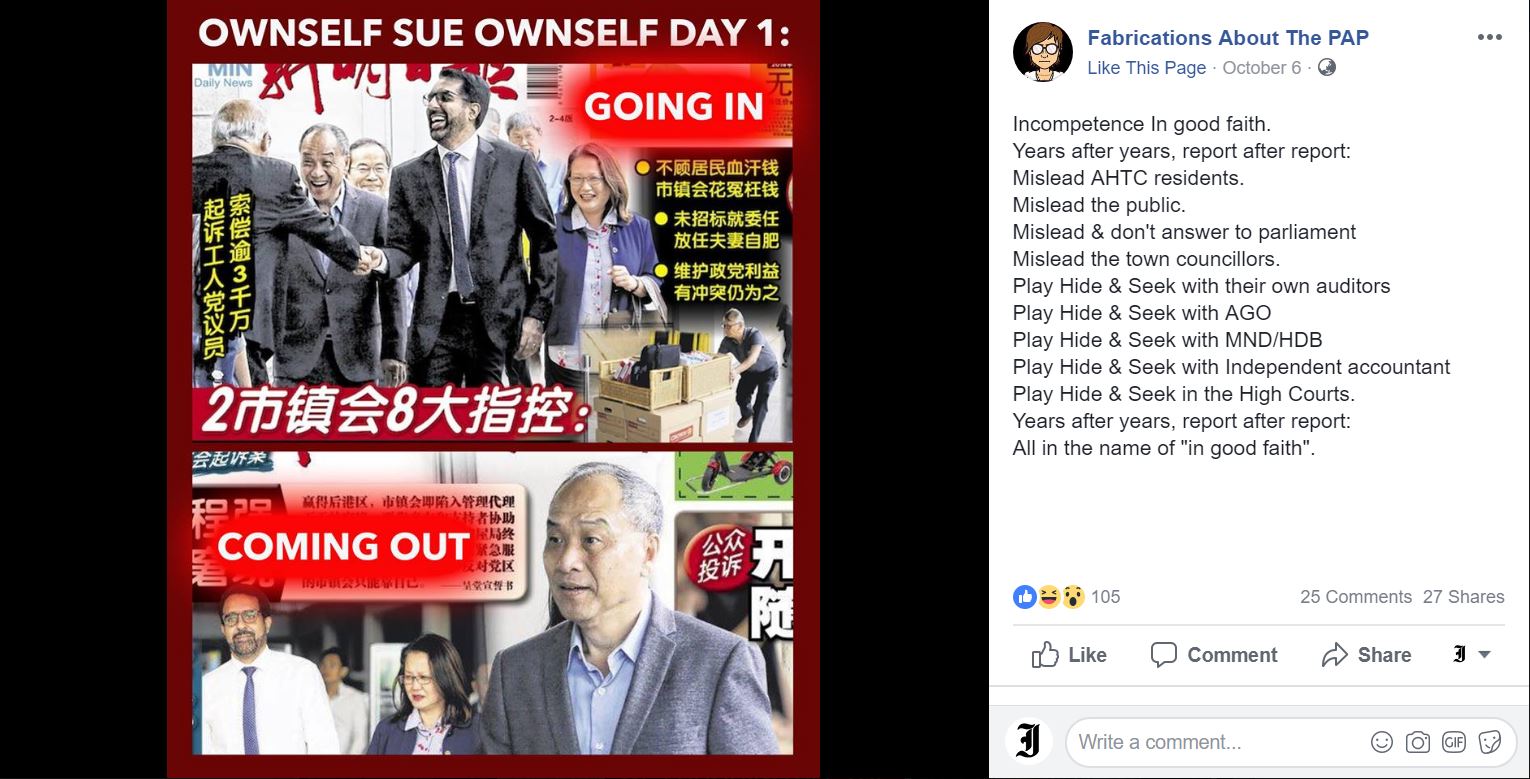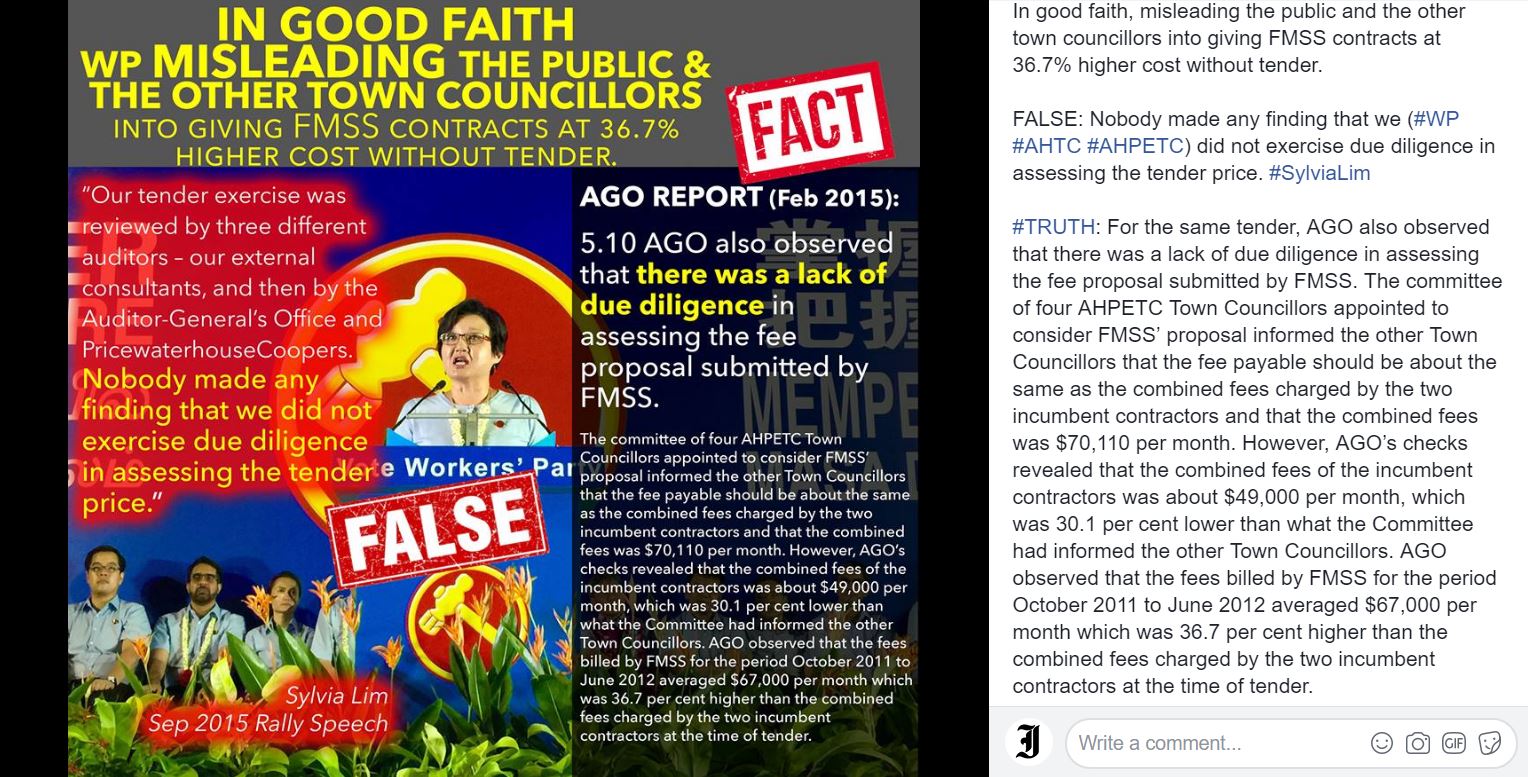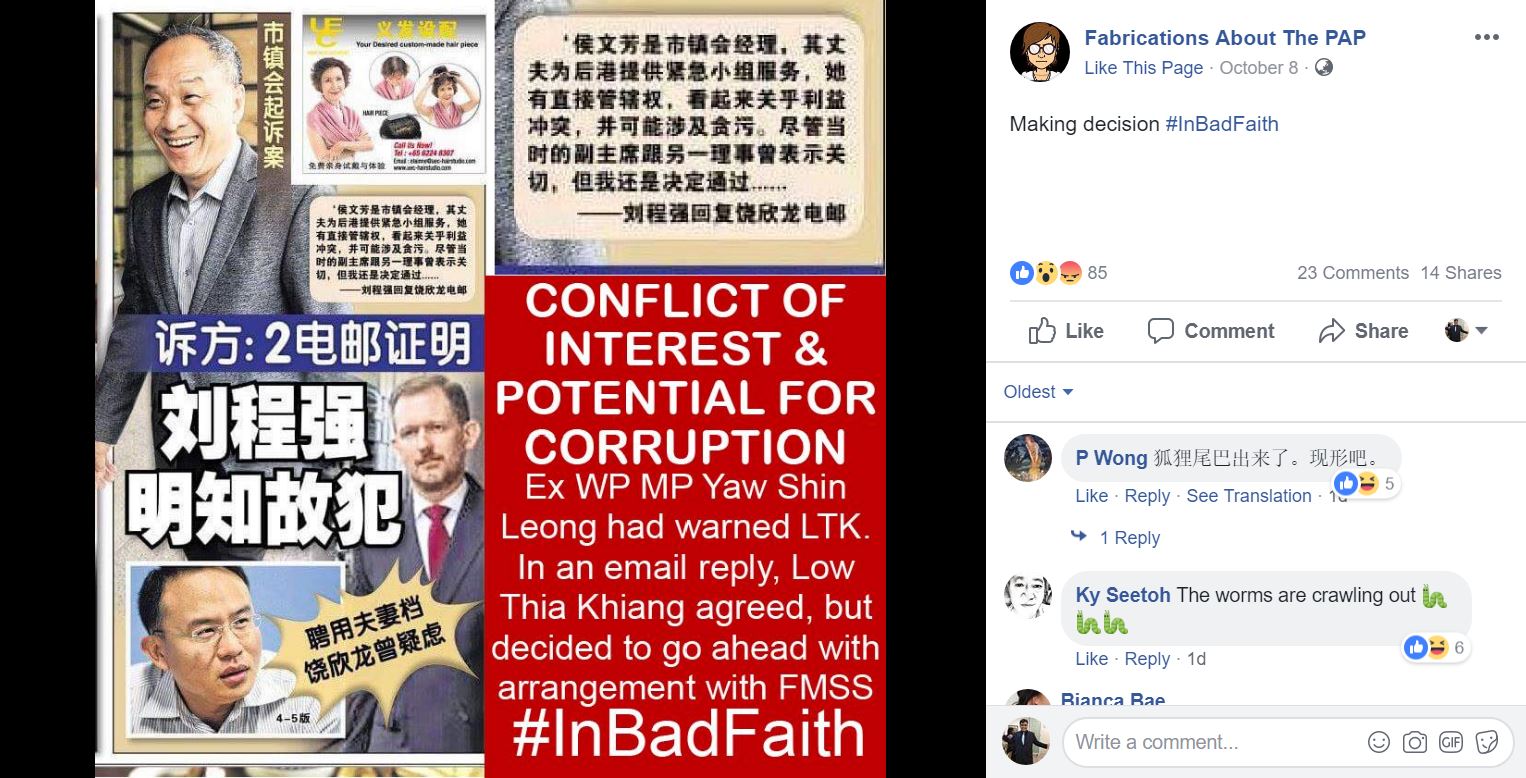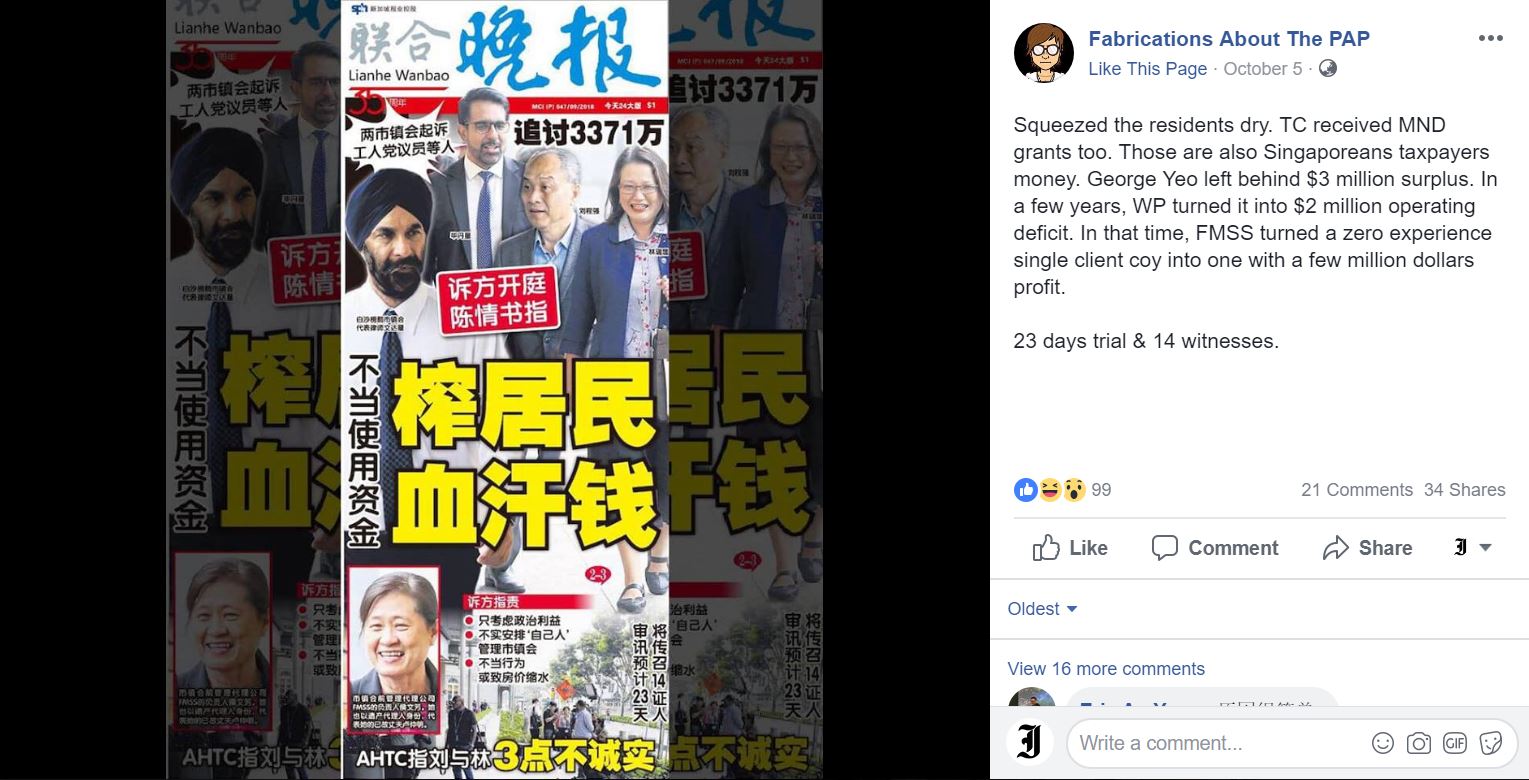 It is unclear whether the page administrators will be prosecuted for making such public allegations concerning an ongoing trial.
One professional, legal associate at Harry Elias Partnership LLP Mr Sui Yi Siong, told socio-political website TOC that such posts fall under sub judice contempt, since they pose a "real risk of prejudice" to the legal proceedings.
The website has written to the Attorney-General's Chambers (AGC) to ask if any action will be taken against the fanpage and its administrators.
It must be noted that the AGC was allowed to begin contempt of court proceedings against Singapore's founding prime minister Lee Kuan Yew's grandson Li Shengwu, over comments that Shengwu had made in a private 'friends-only' Facebook post that was leaked without his permission.Follow us on Social Media
Send in your scoops to news@theindependent.sg