The long wait is over.
Just few days after New Year, pre-orders for new models of Microsoft Surface computers: Surface Pro 6, Surface Laptop 2, and Surface Studio 2 including the Surface for Business line-up were already opened in Singapore, via the Microsoft Online Store and at authorised commercial resellers and retailers.
Launched in October and November last year in the US, these devices will be officially released on Jan 15 island wide. The prices are pegged at between S$1,398 and S$7,618.
The new Surface devices are built to enhance productivity and unleash the creativity of individuals on-the-go, said Microsoft, the American multinational technology company based in Washington.
The Surface line of computers has come a long way already. Surface is a line of tablet computers developed by Microsoft. It was first introduced on June 2012 in an event in Los Angeles. Surface was their first major initiative to integrate its Windows OS with its own hardware. It is the first PC designed and distributed solely by Microsoft.
This year 2019, Singaporeans would not be behind in using one or all of the new models.
Let us take a look at the features of each one:
Surface Pro 6: A Convertible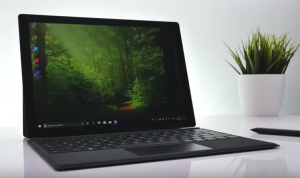 Photo: Screengrab from YouTube
Surface Pro 6 continues to be the flagship convertible notebook of Microsoft.
It is ultra-slim light, starting at just 1.70 lbs (771g) versatile. It boasts with the latest 8th Generation Intel® Core™ processor and Windows 10 Home experience to get even more productive.
With Windows 10 Home,one can enjoy familiar features like password-free sign-in, and create your best work with Office 365 (requires subscription) on Windows.
It can last up to 13.5 hours of battery life. Versatility is also a feature for this model. By adjusting the innovative, built-in Kickstand and Type Cover, Surface Pro 6 can go from laptop to tablet to a portable studio.
A simple adjustment of the built-in Kickstand can give a perfectly-tilted writing and drawing position with Surface Pen (sold separately) and touch, plus Surface Dial (sold separately) for on-screen interaction.
With Surface Pro 6, sketching ideas and editing documents, adding visual impact with 3D models and taking projects to the next level are possible, with help from intelligent features.

Photo: Screengrab from YouTube
According to the American technology news and media network Verge, Surface Pro 6 is "the portable laptop and tablet hybrid to beat".
Price starts at S$1,398.

Surface Laptop 2: Perfect in style and speed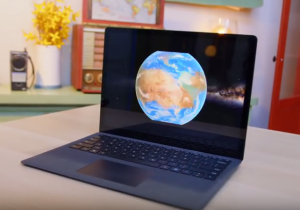 Photo: Screengrab from YouTube
Surface Laptop 2 goes beyond the traditional one. It is the perfect partner to finish side projects, with improved speed and performance as this is run with the latest 8th Gen Intel ® Core™ processor.
Starting at just 2.76 lbs (1,251 g), it is thin and light. Just slip it in a bag and make every day more productive.
With its vibrant 13.5" touchscreen, there can be so many things to do. It is fast, and easy to navigate for work, create inspiration, or share photos with friends.
It comes with Windows 10 Home to enjoy familiar features like password-free sign-in, and create the best work with Office 365 (required subscription) on Windows.
The power to stay on is not a problem, as it lasts up to 14.5 hours of battery life.
According to Microsoft, Surface Laptop 2 barely makes a sound when the lid is closed or when one types on the keyboard.
Its built-in OmniSonic speakers discreetly hidden below the keyboard, amplify better the sounds users want to hear.
According to the digital media website Mashable, "Microsoft Surface Laptop 2 is the best laptop of 2018".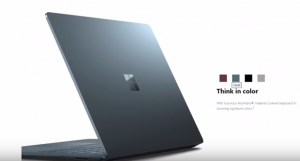 Photo: Screengrab from YouTube
Price starts from SG$1,528.00.

Surface Studio 2: the ultimate creative studio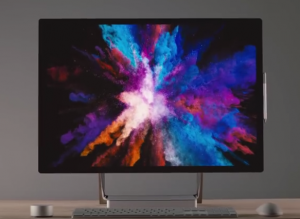 Photo: Screengrab from YouTube
Tagged by Microsoft as the "most powerful Surface yet", Surface Studio 2 will not fail creators with its brilliant color, blazing graphics, faster processors, intuitive tools, and a stunning, adjustable 28" display.
It has the Intel® Core™ i7-7820HQ processors for superb work performance. It uses an SSD storage for faster file handling, and more graphics memory with the Discrete NVIDIA® GeForce® GPU to handle your workflow and support better gaming, mixed reality, and VR.
The 28-inch PixelSense™ Display touchscreen with 13.5 million pixels offers a brighter and more contrast to bring to true-to-life colour, plus it has 4,096 levels of pressure sensitivity when using the Surface Pen.
With Surface Studio 2, one can transform the desktop into a personal studio and run intensive software like Solidworks, Adobe Creative Cloud, and Autodesk, which are sold separately.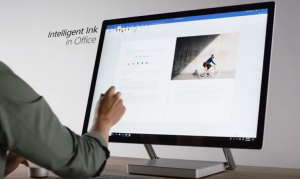 Photo: Screengrab from YouTube
Edit stunning photographs. Run circles around renders. Create rich 3D graphics for every reality. These can only be done with the Surface Studio 2.
Its zero gravity hinge can provide freedom to choose the best angle to bring creative ideas close to reality.
Surface Studio 2 ignites creativity and powers productivity.
Price starts at SG$5,548.00.

Follow us on Social Media
Send in your scoops to news@theindependent.sg