Singapore— In a Facebook post on August 15, Thursday, Prime Minister Lee Hsien Loong said that he will be continuing from where he left off concerning global warming and rising sea levels in his National Day Message last week to talk about what Singapore can do to respond to these grave problems.
PM Lee posted a link to a webpage from the BBC showing how temperatures have risen all over the world in the last century, and in particular, pointed out that the worst-case scenario is that for Singapore the temperatures for July could go up by more than 3 degrees Celsius by 2100, rising from 27.8°C now to 31.1°C.
He wrote, "Those are monthly averages. Maximum temperatures during the day will be much higher. Today, we are already hitting daytime highs of 32°C and even 34°C, so by 2100 Singapore could see 37°C days!"
He then said that he will talk about this topic at the National Day Rally on Sunday, 18 August, at 6:45 pm and urged citizens to tune in.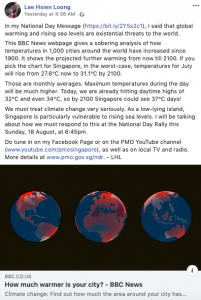 In his message last week the Prime Minister said, "Singapore will not be immune to these global problems… We must get ourselves ready for a very different future."
However, he expressed confidence that these problems can be overcome if Singaporeans work together. "Throughout our history, when trials and tribulations have beset us, we picked ourselves up, and worked together to overcome them. Each time the world changed, we were able to survive."
The Prime Minister's National Day Rally speech may be listened to on local radio and watched on TV stations, as well as via live streaming through PMO YouTube (www.youtube.com/pmosingapore) or the Facebook page of the Prime Minister  (www.facebook.com/leehsienloong).
Netizens can also catch the broadcast via the Facebook page of government feedback unit REACHSingapore, which is under the purview of the Ministry of Communications and Information (MCI)www.facebook.com/REACHSingapore, or through Toggle.sg and channelnewsasia.com.
Live updates about the rally can be read about on Prime Minister Lee's social media (Facebook and Twitter) accounts www.facebook.com/leehsienloong or www.twitter.com/leehsienloong.
And anyone who wishes to join the conversation is encouraged to use the #ndrsg hashtag in their posts and tweets.
The broadcast will also be made available on the PMO's YouTube channel and website www.youtube.com/pmosingapore or www.pmo.gov.sg/ndr from the following day, August 19, and onward.
The PMO's press release also noted the following:
"The National Day Rally will be broadcasted in English on Channel 5, Okto and 938NOW from 6.45 pm and 8.15 pm. The Mandarin broadcast will be on Channel 8, Channel U and Capital 95.8FM from 6.45 pm and 8.15 pm. The Malay broadcast will be on Suria and Warna 94.2FM from 6.45 pm and 8.15 pm. The Tamil broadcast will be on Vasantham and Oli 96.8FM from 6.45 pm and 8.15 pm. CNA will broadcast the National Day Rally's Malay and Chinese speeches with summary captions in English from 6.45 pm, and the English speech with summary captions from 8.15 pm."/ TISG
Read related: PM Lee to deliver National Day Rally speech on Sunday, Aug 18
PM Lee to deliver National Day Rally speech on Sunday, Aug 18