Speaking at a dialogue on human capital in Bali, Indonesia, on October 11, Singaporean Prime Minister Lee Hsien Loong emphasized that governments should want to improve the lives of all the citizens of a country, and not just those coming from specific portions of society.
The summit is part of the annual meetings of the World Bank and International Monetary Fund.
The moderator of the dialogue had asked the Prime Minister what advice he would give people in authority from other governments who wished to emulate the success Singapore has enjoyed, given that the country was ranked number one amongst 157 countries in terms of Human Capital Index (HCI), in a report by the World Bank, also released on October 10.
Human capital is defined as the knowledge, skills, and health that people accumulate over their lives that every man and woman can expect to reach by the time he or she is 18 years old. The Human Capital Index is made up of three parts: health, education and quality of standard of living.
Prime Minister Lee said, "The first starting point for the Government must be, we want to improve the lives for all of the population, not just some of it. … Because if you do that, then as their basic lives improve, they can start thinking about the future."
He also said that in its early years the country worked hard to make sure everyone got the basics such as homes and schools for everyone, as well as a family planning program to curtail a population boom.
Later on, more steps toward healthcare were taken, including the introduction of Medisave, an health savings system required for every citizen.
And, in the face of all the progress that Singapore has made, the Prime Minister reiterated that there are always "new expectations and new challenges," and that currently, the government is working on improving education at the pre-school levels.
He said, "Children come at the age of six to school at quite different levels. We want to bring everybody to a good starting point, regardless of rich or poor."
In the area of healthcare, he emphasized that the government is now working on improving step-down care facilities, which are community-based or residential healthcare services.
Jim Yong Kim, president of the World Bank, focused on the relationship between economic growth and developing human capital.
He said, "We believe that leaders and ministers of finance would have to take the same kind of … responsibility as Prime Minister Lee took. The leaders, we hope, would come to us and demand to know what it takes to get better outcomes."
He said the World Bank is eager to extend a helping hand to countries, "What we're saying to countries is, if you're serious, we will help you bring in more private sector financing… we will help you manage your budget, manage your spending in a way that you'll be able to improve dramatically in your outcomes." 
Unfortunately, some netizens back home did not take too kindly to the Prime Minister's remarks.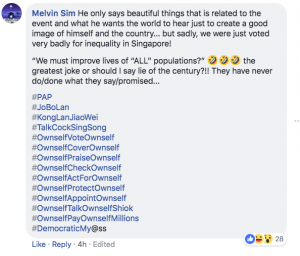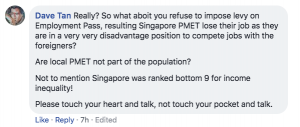 Follow us on Social Media
Send in your scoops to news@theindependent.sg