People were up in arms instead of being all lovey-dovey on Valentine's Day when the flowers that they ordered from XpressFlower.com did not arrive on time or at all.
One customer Kyson Tay said that he even received a call that his delivery order had been successful when in fact there had been no delivery at all. Despite calling the company hotline numerous times. Even his partner commented in the post at midnight asking for her flowers:

Photo: Facebook screengrabMarc Wong experienced the same thing and got no response from the company when he tried to make a follow-up.

Meanwhile, Keith Chong received his flowers at midnight, which was a bit too late.

Jared Sim and Shahrin Rashid had the stressful experience of trying to deliver the flowers to the recipient's workplace hoping it would reach on time but to no avail.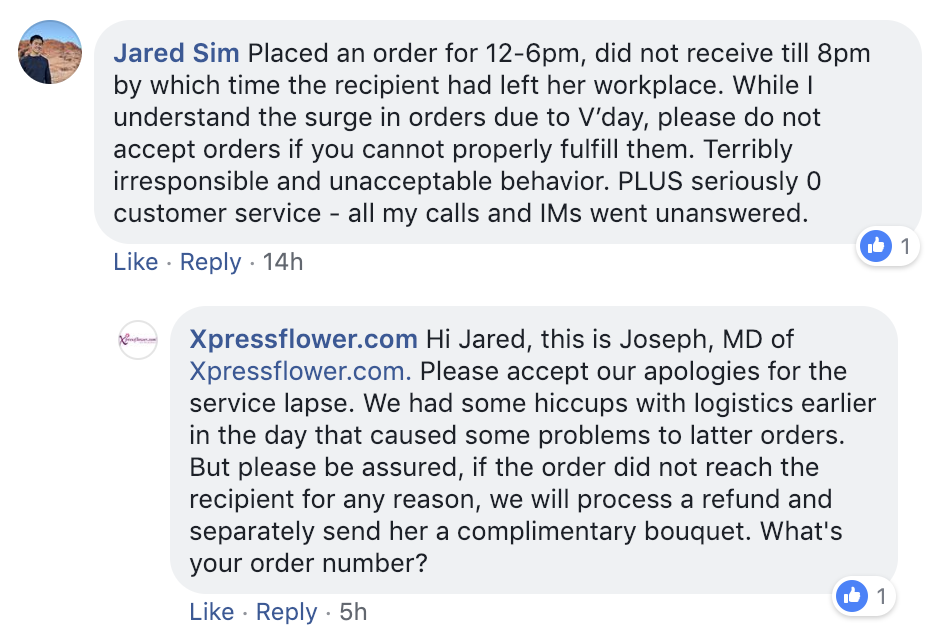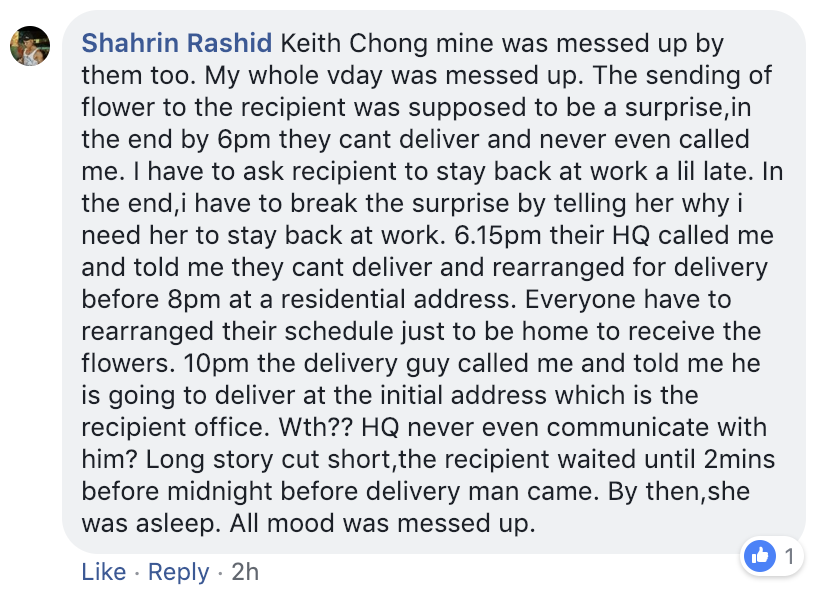 Joe Chay was another customer who experienced late delivery and got the snub when he tried XpressFlower.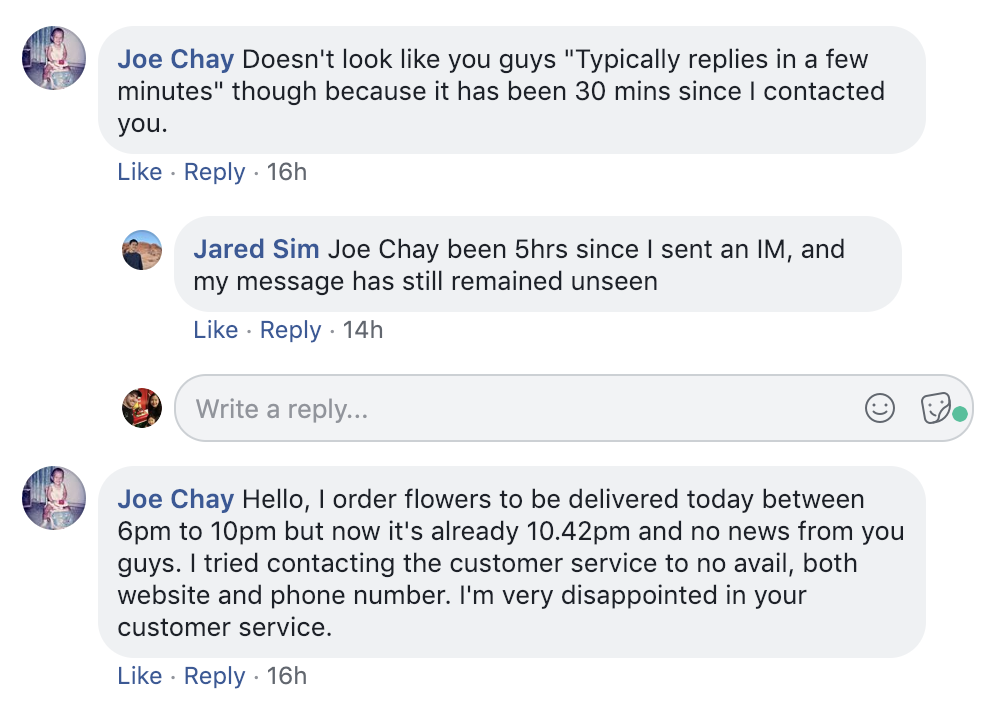 XpressFlower's company profile states that: Xpressflower.com provides more than just flowers. We are here for our customers 24/7, committed to offering only the freshest flowers and gifts, backed by delivery service that is reliable and prompt.
It is understandable that this can get compromised on February 14.
The Independent Singapore has contacted the company and received information that the affected customers have been compensated with refunds and a complimentary bouquet to be delivered on another day of their choice.
MD of Xpressflower.com Pte Ltd, Joseph Soh said that this hiccup was nothing new. Being in the business since 2004, the company had gone through similar "turbulent times" long before the convenience of social media exposed a company's shortcomings so easily.
Soh's excuse was that "no one is perfect, especially on a day like Valentine's Day."
Xpressflower.com is located at 160 Paya Lebar Road #01-07 Orion@PayaLebar (Knots Café)
https://www.facebook.com/Xpressflowercom/posts/10155933835701811?__xts__[0]=68.ARAkpM2B1ndQSQy1zrylatVM5kl1hSPdJUtEhGSBAXAnc07AXAFRIJdrnMnIT3vmVSfIWKkkAaB4b__fRxWW-l21SoikkZQYiXfeH32xUAm1lybspNVYBMISu38jVAOtWoquizoIBUrnWnAYlRB2pq8WAYTfHJrTbX4Pt5KxtbOavJqsHRu3m-j1VVr4J2H0V6aaMsd9qq23GFg0YMXOJN3IGGWvoAvhUlKeEszGgLrUVerFbc07RfPbgum-TXKmWB0tanaPsQiBHFK0XpI3SRxkqrMSyO76rclLquiRpIkOQG3KzVfKP2zUbb3u4_QRCksOAuaSi3NbxcSkQsyn&__tn__=-RFollow us on Social Media
Send in your scoops to news@theindependent.sg